SENRGY PhD students scoop awards from the Agricultural Economics Society of Ireland.
The Agricultural Economics Society of Ireland's annual early research seminar recently took place at University College Dublin. Bangor University was represented by SENRGy students John Walsh and John Hyland and we are delighted to announce that both students won their respective categories.
John Hyland won the "First Year" category for his research on the attitudes and perceptions of Welsh farmers towards climate change. On awarding John his prize, the judges noted that they were extremely impressed by both the quantity and quality of work carried out by a PhD student in the first year of study, and that he most certainly has a bright future ahead of him.
John Walsh, who has just completed the 3rd year of his PhD, won the Bob O'Connor Prize for the Best Overall Presentation and Work at the seminar. The judges commented on the clear and uncomplicated manner in which John presented the various facets of Anaerobic Digestion; combining the different disciplines associated with the technology, while outlining how his research may also be applicable to Ireland.
Their achievements are even more noteworthy for the fact that this is the first time that both awards have been awarded to students at a university outside of Ireland.
As noted by Dr Rob Brook, Bangor University Director of Postgraduate Studies, "It is great news and I join the rest of my colleagues in SENRGy in offering my congratulations to them both. It is wonderful to see our students flying the flag for Bangor University and a great example of the importance of making research accessible to a wide audience".
John Walsh's research is just one of a number of ongoing research projects based at SENRGy's Henfaes Research Station.
Both students are funded through the EU KESS PhD studentships programme, with additional funding from external partners Fre-Energy (John Walsh) and Hybu Cig Cymru (John Hyland).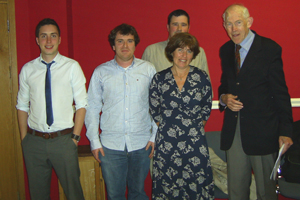 Awards Ceremony
Left-right: John Hyland; John Walsh; Dr Michael Wallace (University College Dublin); Ann Derwin, Chief Economist, Department of Agriculture, Fisheries and Food (Ireland); Brendan Riordan (Economist Consultant).
Publication date: 22 November 2012