SENRGy Professor wins prestigious award by the Chinese Academy of Sciences!
The School of Environment, Natural Resources and Geography's Professor Davey Jones was awarded the prestigious award of 'Visiting Professorship for Senior International Scientists' by the Chinese Academy of Sciences in January 2013. As part of the award, Professor Jones gave a series of lectures on soil sustainability to the Chinese Academy of Sciences (CAS) at Changsha where the Institute of Sub-Tropical Agriculture is located. Bangor University have signed a Memorandum of Understanding with CAS to facilitate the exchange of scientists and to undertake joint research projects.
Professor Jones said "a lot of the environmental challenges we face in Wales are mirrored in China and transfer of knowledge makes sense when tackling these problems. We hope that students and researchers will benefit greatly in the coming years from this formal Wales-China link."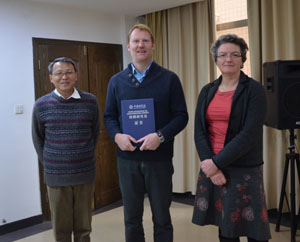 Left-right: Professor Wu from CAS presenting the award to Professor Davey Jones in Changsha; Dr Paula Roberts from SENRGy.
Publication date: 11 March 2013