Shakespeare's Globe to perform in Pontio during their only visit to Wales this Spring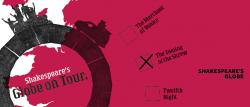 During Spring 2018, Shakespeare's Globe will be going on tour stopping at Pontio Arts and Innovation Centre, Bangor 7-9 June for their only performances in Wales during the tour.
During the first season for their new Artistic Director Michelle Terry, and in a first for Shakespeare's Globe, a company of 8 actors will offer audiences a choice of three plays: The Merchant of Venice, The Taming of the Shrew and Twelfth Night.
Back in Shakespeare's time, when the theatres closed, a small company juggling various parts in three or four plays from their extensive repertoire, would leave London and head out on tour. The choice of play or entertainment was left to the most powerful person of the household. So, following in the tradition, and to add to the excitement, the choice of play will be put in the hands of the audience, who will vote on the evening to determine which play will be performed. Once the vote has been cast, the play will begin.
The Director Brendan O'Hea said: 'The combination of Shakespeare, the Globe and touring ticks every box for me. The chance to share those glorious words and my experience of playing that beautiful theatre with audiences throughout the world excites me beyond measure. And I'm relishing the opportunity to direct three of Shakespeare's most popular plays in a unique and unpredictable presentation.'
Never afraid of a challenge, we'll set about transforming Theatr Bryn Terfel to offer that 'Globe' experience, with standing positions available as well as seats.
After presenting a performance by the Globe ("As You Like It") back in 2012 in Penrhyn Castle, Pontio's Artistic Director, Elen ap Robert said: "Now into our third year at Pontio – we are extremely pleased to welcome the Globe back, this time to the warmth of Theatr Bryn Terfel…and not to perform once, but four times. Come and share the thrill of the Globe on Tour and be part of the excitement and anticipation as you, the audience choose which play will be performed before you…are you ready for a Shakespearean adventure?"
There will be other special events around the Globe's visit in co-operation with Pontio's youth project, BLAS, Bangor University and local secondary schools. More details to follow in the next seasonal brochure.
This event would not be possible without the Pontio Development Fund
Box Office: www.pontio.co.uk
Phone: 01248 38 28 28
Tickets: £18 - £6.50
Shakespeare's Globe on Tour
Theatr Bryn Terfel, Pontio, Deiniol Road, Bangor, LL57 2TQ
Thursday 7 June, 7.30pm (with post-show Q&A)
Friday 8 June, 1pm (primarily for schools: Twelfth Night)
Friday 8 June 7.30pm (with pre-show talk 6.15-7pm)
Saturday 9 June, 7.30pm
See website for more details
Publication date: 14 March 2018