#ShareYourWelsh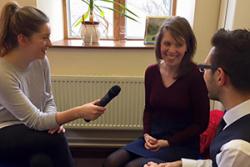 Tutors Eluned James and Martyn Croydon being interviewed.Welsh learners from across north Wales have played a leading role in the popular campaign #ShareYourWelsh run by BBC Radio Wales this January. According to 'Ffrwti', #ShareYourWelsh was the highest trending hashtag (#) on social media in Wales on January the 8th 2016, confirming the popularity of this campaign. Welsh for Adults North Wales at Bangor University have been working closely with this project right from the start.
In co-operation with the production team for Radio Wales, Welsh for Adults lined up interviews with learners and tutors across North Wales, and provided information, advice and top tips for the BBC Radio Wales portal. #ShareYourWelsh was an incentive for discussing the experience of learning the Welsh language, the difficulties, and advice on how to improve and get more practise. Ifor Gruffydd, Director of North Wales' Welsh for Adults commented on how effective the campaign had been,
"Working with Radio Wales has been great for our learners and for learning Welsh in general"
Dot Davies and Huw Stephens are the faces and voices of the campaign and the podcasts produced for the Radio Wales website. Interviews sharing Welsh learners experiences have been broadcast on both Eleri Sion and Jason Mohammad programmes on Radio Wales throughout January. Gwenda Richards, producer on #ShareYourWelsh, explained the intentions behind the campaign: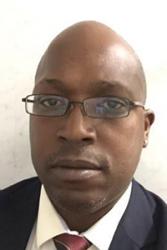 Dr Moore"To share positive experiences about learning Welsh at the beginning of 2016"
Six learners and five tutors from North Wales Welsh for Adults were interviewed for Radio Wales. Amongst these were the tutors Eluned James and Martyn Croydon. In this instance the discussion was how Welsh classes had brought both of them together. A very romantic story about falling in love, getting engaged and soon to be married in the summer.
Proving very popular was the interview with Dr Phillip Moore of Ysbyty Gwynedd, Bangor. Dr Moore is originally from Barbados, and he laughs at how people are amazed when he starts to speak Welsh:
"After they get over the shock, you can see their faces start to light up".
Dr Moore knows that the Welsh language is the default language for many in the North West, and has experience of how important it is to speak Welsh especially with the very young or the very old. On one occasion his ability to speak Welsh came in very handy when dealing with an elderly patient who had never been to hospital before. He noted how patients visibly relax when he speaks to them in their own language.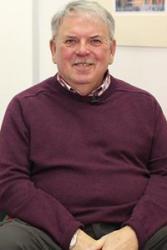 Hugh Brightwell"I sang Sospan Fach to a petrified patient", he says.
At 'Tŷ Pendre Newydd' language centre in Mold Hugh Brightwell was one of the learners that was interviewed. Looking back on the experience as a whole, Hugh wanted to pin point the strength of the campaign #ShareYourWelsh . He said how important it was to discuss the language and give advice for learners in the English media
"There's no point 'preaching to the converted', we need to talk to people outside the Welsh communities, and get them to want to learn"
To hear these interviews in full and get information about learning Welsh go to www.bbc.co.uk/radiowales or join in the discussion yourself #ShareYourWelsh
Publication date: 21 January 2016