Sioned Davies named 'Support Staff of the Year'
Congratulations to Sioned Davies, School Administrator and Personal Assistant, who was awarded the Support Staff of the Year prize at the University's Student Led Teaching Awards recently.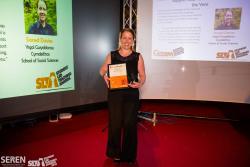 Sioned Davies collects her 'Support Staff of the Year' award
This was the third nomination and first win for Sioned, who accepted her prize at a glitzy ceremony in the University's Pritchard Jones Hall on Friday, 29th April.
Also in attendance was Dr Julia Wardhaugh, Senior Lecturer in Criminology & Criminal Justice, who narrowly missed out on the Award for Outstanding Pastoral Support.
Organised by the Students' Union, the Student Led Teaching Awards celebrate the high standard of teaching and pastoral support offered by academic and administrative staff throughout the University. Nominations are made by the students.
Publication date: 9 May 2016