Solving mysteries with Leverhulme Research Grants
Three awards to Bangor University will enable scientists to solve some of the unanswered mysteries of science and record one of the earth's most diverse ecosystems.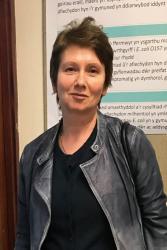 Dr Olga GolyshinaDr Olga Golyshina of the School of Natural Sciences is to investigate little understood organisms which can be found thriving under extremely acidic conditions in the drainage waters of the old copper mine at Parys Mountain in Anglesey.

Dr Richard Holland also of the School of Natural Sciences is to lead a three year Leverhulme Research Project Grant to further his work on how bats navigate during their migration.
Professor Roger Thorpe, a retired Professor, has received an Emeritus Fellowship for 2 years to create a new field guide and book on the unique ecosystem found on a series of Caribbean Islands of the Lesser Antilles.
Based at the Centre for Environmental Biotechnology, Dr Olga Golyshina is one of a team exploring ways in which we can harness microbes.

Dr Golyshina explains:
"Microbes are a large and diverse group, but fewer than 1% have been cultured and analysed. In particular, very little is known about Archaea, a group of single-celled microorganisms evolutionary very distinct from bacteria.

This project 'Uncovering archaeal dark matter' will focus on a sub-set of Archaea which thrive under extremely acidic conditions. Using state-of-the-art microbiological and molecular biological techniques, we will detail their physiology, mechanisms underlying the lifestyles as symbiotic or parasitic organisms and their environmental function."
Dr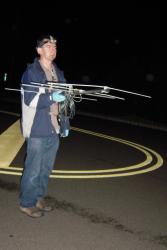 Dr Richard Holland tracking bats. Richard Holland of the School of Natural Sciences studies how migrating bats found on the Baltic coast of Latvia use magnetic cues to navigate during their migration.

This project has developed from Dr Holland's previous work and that of current MSCA COFUND research colleague, Oliver Lindecke.
Dr Holland explained:

"We look at how small pipistrelle bats such as Pipistrellus nathusii and Pipistrellus pygmaeus use the magnetic field, the sun and their sense of smell to determine the direction they migrate."
The project is part of an ongoing collaboration between Bangor University, the Leibniz Institute for Zoo and Wildlife in Berlin, and the Papa Ornithological Station in Latvia.
Professor Thorpe's team have studied the ecology of the Lesser Antilles for 30 years. As well as producing an up to date field guide and book, the team hope to discover new species.
Prof Thorpe explains: "The Lesser Antilles are a biodiversity hotspot with many species found only in that location. Reptiles including the world's smallest snake, the world's rarest snake, and critically endangered, or endangered species dominate and play a pivotal role in the terrestrial ecosystem. There are however conservation threats including habitat loss,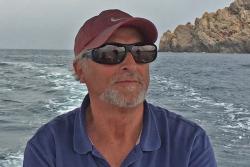 Emeritus Professor Roger Thorpe.the introduction of animals such as goats, rats, dogs and cats that destroy the vegetation or kill the reptiles and invasive species that outcompete, or hybridize with native species."
Publication date: 7 July 2020