Staff and students from SENRGy on location in Northwest Vietnam
As part of a collaborative agreement between Bangor University and the World Agroforestry Centre (ICRAF) Dr Fergus Sinclair recently organised a two week training course in Vietnam from 1st-12th June 2015. Genevieve Lamond and Dr Tim Pagella from the School of Environment, Natural Resources & Geography (SENRGy) led the training with participants including four MSc students from SENRGy's Environmental Forestry, Agroforestry, and Sustainable Tropical Forestry Masters programmes, a PhD Agroforestry student, and researchers from ICRAF and national research institutes in Vietnam and Laos. The focus was eliciting and analysing local knowledge using the Agroecological Knowledge Toolkit (AKT), a methodology and software developed at Bangor University, to better understand opportunities for increasing tree cover in a landscape prone to heavy soil erosion according to farmers in the area. The findings from the two week research study will be used to inform future activities under a project called AFLI (Agroforestry for Livelihoods of Smallholder Farmers in Northwest Vietnam) which is funded by the Australian Centre for International Agricultural Research and the CGIAR Research Program on Forests, Trees and Agroforestry.
Genevieve Lamond said "This has been a fantastic opportunity for our students to get involved in real-world research and work in interdisciplinary teams with people of different cultural backgrounds. They are now conducting fieldwork for their MSc projects in Kenya and Uganda using the skills developed during the training course"
To read more about the AFLI project visit http://blog.worldagroforestry.org/index.php/2015/07/01/son-tra-the-hmong-apple/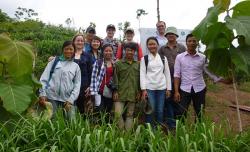 The team visiting an on-farm agroforestry demonstration plot of teak, coffee, plum, and strips of fodder grass, in Mai Son District, Northwest Vietnam.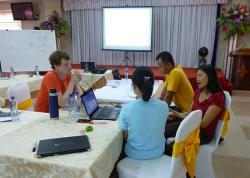 Group discussions in class during the training course in Northwest Vietnam. Photo by Gen Lamond (June 2015)

Publication date: 1 July 2015