Start a Masters this January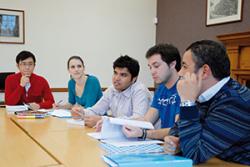 Didn't get your application in on time for September? Bangor University is offering a January 2015 start on selected Masters programmes.
Applications for the January 2015 intake on postgraduate Business and Law programmes are now open, with several courses at Bangor Business School's London Centre also offering a January start.
"We introduced a January intake last year for some of our most popular Masters programs to meet a clear demand from applicants for greater flexibility in the scheduling of their post-graduate studies", said Professor John Thornton, Head of Bangor Business School. "The response from applicants has been very encouraging and we expect January entry to become increasingly popular. It appears to have been particularly helpful to those applicants that have had to go through complicated visa application processes or have needed to confirm financial or other arrangements before committing to postgraduate study."
Professor Dermot Cahill, Head of Bangor University's Law School commented:
"January intake suits students whose academic year in their home country ends on a year- end basis, they don't have to wait 9 months until the following September to register for an LLM at Bangor Law School. One of nice things about arriving in the New Year in the UK for foreign students is that they arrive as the days are starting to get longer. By summer it does not get really dark until almost 11pm: many students find this amazing and very conducive for their studies."
All successful international applicants to the Bangor campus will be automatically considered for a scholarship worth at least £2,500. Eligible international candidates will also be invited to apply for a fully-funded scholarship.
All applicants to the London Centre will be automatically considered for a £2,000 bursary and encouraged to apply for a Gold or Platinum scholarship, worth up to £10,000.
The start date for these programmes (including those based in the London Centre) will be Monday 26th January 2015. These are full-time programmes, running for 12 months (January-January). Applications are now open, and will close on Monday 15th December 2014 for international applicants or Monday 19th January 2014 for UK/EU candidates.
Find out more...
To see the full list of January intake programmes, visit the January Start courses pages.
International student?
If you're an international student then you may like to visit our dedicated January Start pages for International Students.
Publication date: 28 October 2014