Student art competition winner inspired by cancer research hope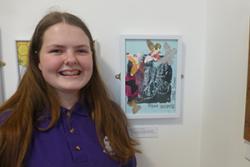 Art Competition winner Annabel Blight and her winning entry.A budding artist from Ysgol David Hughes School has won a local art competition after being inspired by the work of some of Wales' top cancer researchers.
Annabelle Blight, from Llandefgan created the award winning design as part of the annual Bangor Science Festival's Photography, Art and Poetry Competition.
As part of the science estival's, flagship event, the Hidden Worlds exhibition, people were invited into the cancer research labs at Bangor University's North West Cancer Research Institute on Saturday the 12th or March from 10am to 4 pm, to learn more about the vital work being done in the fight against cancer.
Annabelle took the main element of North West Cancer Research's logo, the holly blue butterfly, and re-imagined it in her piece which has elements of collage and includes the inspirational words 'From Despair Comes Hope.'
Annabel, 15, said: "I took my inspiration from the North West Cancer Research - Institute butterfly logo. The work inspires hope that a cure can be found."
Chairman of the Bangor North West Cancer Research Institute Dr Edgar Hartsuiker, said: "Annabel's design perfectly encapsulates the vital work we undertake here at Bangor, helping improve our understanding of cancer and the way it behaves.
"Cancer is one of the biggest killers in Wales, but today thanks to cancer research, half of all people diagnosed with cancer survive. Cancer research, offers us all hope that one day everyone will survive this terrible disease."
Annabel's design was displayed in a special exhibition during Bangor Science Festival 2016 (11 – 20 March) at STORIEL the brand new Gwynedd Museum and Art Gallery on Deiniol Road, Bangor.
Bangor Science Festival's Art Photography and Poetry competition has been established to celebrate the talents of young artists, while raising awareness of science, the environment and the importance of sustainable living.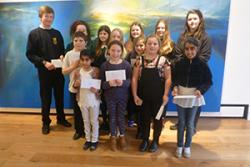 The Art, Poetry and Photography competition winners.Stevie Scanlan, Bangor Science Festival Organiser, said: "this competition is really one of the highlights of Bangor Science Festival, the work that we received this year was very impressive, and everyone who entered clearly put a lot of thought into their work."
The next Bangor Science Festival, at Bangor University, will run from 10th – 20th March 2017 as part of British Science Week. It offers something for everyone, with activities for families and schools groups, adults looking for entertainment and stimulating debate, or professionals interested in the latest research.
More information on the activities scheduled can be found at: www.bangor.ac.uk/bangorsciencefestival/
Photography
First Prize Primary First Prize Secondary
Stephanie L. Williams Joshua Meyerratken
Year 6 Ysgol Y Faenol Ysgol: Botwnnog blwyddyn 10
2nd prize secondary Highly commended Secondary
Emma Jane Williams Antonia Jones
Ysgol Friars 10Y Ysgol: Botwnnog blwyddyn 10
Art
First Prize Primary First Prize Secondary
Amy Evans Annabelle Blight
Age 11 Age 15
Ysgol y Faenol year 6 Ysgol David Hughes
Second prize primary Second Prize Secondary
Ellie Rose Owen Arron Thorpe
Ysgol Y Faenol year 6 Age: 12 Ysgol David Hughes
Highly Commended Primary Highly Commended Secondary
Liberty Hope Schofield Dora Hamilton (not pictured)
Age 10 Ysgol Y Faenol year 6 Age: 13 St-Gerards School
Poetry
English First Prize Primary First Prize Secondary
Hadia Jasmine Blight
Age 8 Ysgol Y Faenol Bangor Age 13 Ysgol David Hughes
Welsh First Prize Primary
Hannah Mai Owen
Oed 10 Ysgol Y Faenol Blwyddyn 6
Ysgol y Faenol, Penrhosgarnedd
Highly commended Primary
Armeen Javaid
Age 10 Ysgol Y Faenol
Tamsin Lumley
Age 10 Ysgol Y Faenol year 6
Publication date: 30 March 2016