Student Christmas Market attracts record numbers
Students from across Bangor University and Grwp Llandrillo Menai took part in the running of 65 stalls at the Student Christmas Market held on 4 December attracting over 1600 visitors. It was fantastic to see such a diverse range of locally made merchandise on offer this year. There was an impressive array of international foodstuffs as well as arts and crafts – from original paintings to knitted and tweed products, wire figurines as well as the usual festive homewares of all types.

Visitors had an opportunity to have their photo taken with Santa courtesy of Bangor University's Photographic Society. Live festive music was provided by Zoe Hodkinson playing guitar and singing and also by a three piece flute group from the School of Music.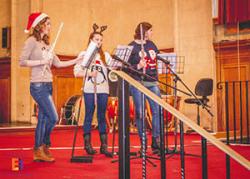 As well as the traditional craft stalls it was great to have representation from ten student societies at the market this year including the Farm Society, Fencing Club, Geography Society, Dance Society, Conservation Society and many more. This has been a good opportunity for the societies to promote what they do, add to their membership and raise money for their Society budget and charities. The Bangor Enactus Committee also had a stall and were raising money to fund community projects.

Some of the student stallholders had taken part in the supporting workshops on 'How to Price' run by Gaenor Roberts, a Welsh jewellery entrepreneur from Tlws, and 'Visual Merchandising and Engaging Customers' run by Helen Hodgkinson, a lecturer trained in the Mary Portas School of Retail. Taking active part in these events and supporting workshops affords students the opportunity to exercise their creativity and develop enterprise and employability skills such as planning, selling and pricing, communication skills and so on. Student stallholders also earned 15 xp towards their employability account for taking part.

Prizes were awarded to stallholders under various categories; the best overall stall sponsored by Santander Universities was Elen Hughes with her Welsh-themed wooden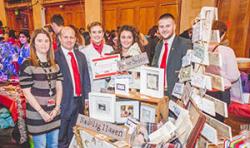 artefacts and cards. She said of the market 'I thought all the displays were good and the customers very friendly. The Student Market was a great place to test trade and for promoting local Welsh products'.

The prize for the best international stall was sponsored by the International Education Centre and awarded to artist Jean Samuel Liynyuy Mfikela and the Most Innovative stall prize was sponsored by Teach First and awarded to Muhammad Firdaus for his wire figurines stall. When asked about his experience he said: "I pitched, I prepared, I profited. The market gave me an excellent opportunity to test out new ideas, gain new experiences, and learn what I would need to know and do in the future entrepreneurships. The award itself was a very pleasant surprise!"

Most festive stallholder as judged by the Careers and Employability Service was Teona Sarateanu.

Many stall holders will be donating some or all of their profits to charities including Hope House, the RSPB, Cancer Research, Hope for Africa, Age UK, MIND and many other UK and overseas charities. £1900 was raised in total. B-Enterprising is very grateful to Santander Universities who have generously agreed to match-fund up to £1400.

This year's event marks the end of the formally funded collaboration of the NW Wales Regional Hub between Bangor University and Grwp Llandrillo-Menai led by Emlyn Williams. The culmination of this funding phase coincides with Emlyn's retirement from his role as Enterprise Manager for the group and we wish him the very best for the future. We have enjoyed joining forces on a range of exciting activities over the years such as the Christmas Market, Innovation Station start up Summer School and various competitions. This event has been a fitting finale to a successful and enjoyable three years between the two institutions and the partnership will no doubt continue on an informal basis for the benefit of students across the hub.

"The B-Enterprising team would like to thank everyone who gave their time and expertise and custom to the market to ensure its success." Said Ceri Jones, Enterprise Projects Manager.

Bangor University is part of a NW Wales Regional Hub which is one of six regional hubs established by the Welsh Government to drive its commitment to encourage youth entrepreneurship in Wales.
Click here to view the student christmas market video.
Publication date: 11 December 2015