Student film accepted at Eisteddfod's Lle Celf Visual Art Exhibition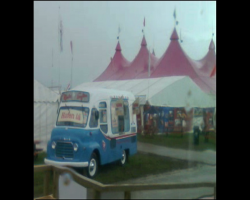 Bangor University student Jenni Steele of Deganwy is to have a short film exhibited in Y Lle Celf which is the highly regarded Visual Arts Exhibition at the National Eisteddfod of Wales in Denbigh (6-13 August).
Fan Hufen Iâ (Ice Cream Van) is a short piece of film that Jenni shot at last year's Eisteddfod.
She says: "The film is simply an atmospheric moment caught in time from last year's Eisteddfod.
"Torrential rain kept me under cover in Y Lle Celf for the duration of a summer downpour, luckily giving me a very watery view of a lonely ice cream van and brave passers-by outside.
I think most people will be able to relate to that feeling of being forced to stay indoors during a heavy summer downpour and looking through a window patterned with raindrops.
I also have a bit of a thing about ice-cream vans, and like making films that feature them, which always seem to nudge away at an idea formed around parallels of gratification and disappointment."
Jenni was asked to send a copy of the film to the poet, Rhys Davis, who will be responding to it.
Commenting on being included in the s year's Y Lle Celf, she said: "I have tried to get my work accepted for The Eisteddfod Visual Arts for the last few years so it is a great thrill and a huge honour to make it in 2013."
Prof. Nathan Abrams, Jenni's PhD supervisor said, "I am delighted that Jenni's work has been accepted to the Eisteddfod. Jenni is very talented and I hope that this will enable to her to receive the wider recognition and audience that she deserves."
Jenni is a part-time practice-led PhD student studying Film, now in her final year. She was attracted to study at the University's School of Creative Studies & Media and pitched her PhD idea to Prof. Nathan Abrams and Dr. Llion Iwan who supported her application. Prior to studying at Bangor, Jenni taught Art and Textiles in Leicestershire community projects and schools. She then moved to Wales in 2006 and studied an MA in Fine Art at Glyndwr University, where she began making film.
Publication date: 2 August 2013