Student filmmaker contributes to television film-making and receives University commissions
A third year BA Communication and Media student at Bangor University who started his own media company, has already worked on a film for the BBC, had a film broadcast on S4C and been commissioned to produce short videos for the University.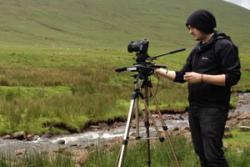 Osian WilliamsOsian Williams, who is 20 years old and comes originally from Pontypridd, South Wales, began SSP Media to funnel his passion for documentary programmes, journalism and radio. Because he has so much interest in the media, he decided that it would be a great idea to start his own company.
He explains:
"I choose to start a company because of the opportunities that are available at Bangor. It's great how we can work with the University and Students' Union and so on to produce films for them. I am a big believer in creating your own opportunities in this world."
"We're filming a variety of things and that for me is the best thing about having the company. We meet lots of interesting people and we have the privilege of producing a variety of creative work based on different things."
Osian received a bursary of £500 from the University, for studying part of his course through the medium of Welsh and this was a big boost to him and an opportunity for SSP Media to purchase their own equipment. He said,
"My girlfriend suggested that I use the money for something practical that would help me develop and learn more about the course so I bought a camera. Since then SSP Media have begun using professional equipment. Our current main camera is 2 Canon 7D's and one Canon 5Dii."
Osian recently had the privilege of being part of the production crew for a Documentary Programme called 'Fy chwaer a Fi' (S4C) / 'Beautiful Lives' (BBC). Osian said:
"Working with such an experienced director as Mei Williams is a great help to me. Mei has taught me so much, and is always very helpful."
Osiand and SSP have worked with the University's Student Recruitment Unit to produce two videos aimed at prospective students to give them a taste of Student Life at Bangor.
Click on the links below to watch the videos:
The company also works closely with Pontio, which organizes a variety of events and entertainment at the University and in the local community. See full story and link to film here:
SSP Media also has an agreement with UMCB (Welsh Students' Union) to take high quality photos of the Welsh Night in the Academy nightclub. Osian added,
"This was the first contract for SSP Media and we are very grateful for the help UMCB has given us. I do a DJ set during the same night so they really helped me to get more members for SSP Media to do the pictures!"
This is an edited selection from a feature created by Cari Ann Roberts, a third year Creative Studies and Media student. Full feature and links to examples of Osian's work here.
Publication date: 14 December 2012