Student Led Teaching Awards 2018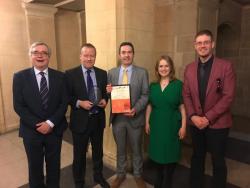 Staff from the School of WelshThe seventh annual Student Led Teaching Awards ceremony was held Friday 20th of April and celebrated the high standard of teaching and pastoral support in Bangor University.
Nominations have significantly increased over the last few years, which shows that more and more students are recognising the importance of the quality of teaching on their education.
Of the 600 nominations, academics and non-academics were nominated for their hard work in the University over the 12 categories. Amongst the awards, the Teacher of the Year award went to Dylan Wyn Jones, School of Medical Sciences and the School of Welsh was crowned School of the Year.
Professor Gerwyn Wiliams, Head of the School of Welsh, said:
"The school takes great pride in this award which is a clear indication of the value and importance of small academic departments."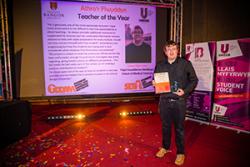 Dylan Wyn Jones: Teacher of the YearDylan Wyn Jones, Teacher of the Year, said: "It has been a huge honour to have been nominated for this award by the student body and an even greater one to have won it. I would like to thank the students not only for their nomination but also for their encouragement and feedback which has enabled me to develop as a lecturer. I would also like to thank my colleagues in the school for the opportunities given and their excellent support."
Professor Carol Tully, Pro Vice Chancellor (Students) said: "This was another wonderful celebration of all the great work done by staff across the university. It is heartening to see that work recognised so enthusiastically by students. Many congratulation to all the nominees and winners."
Helen Marchant, VP Education and Welfare in the Students' Union, and one of the organisers of the evening said: "The SLTA's are a fantastic experience to be a part of. The awards celebrates the partnership that staff and students have and it should be something that every University should strive for".
Congratulations to all the 2018 winners:
Award for Welsh Medium Education

Awel Vaughan-Evans

School of Psychology

Award for Outstanding Pastoral Support

Caroline Bowman

School of Psychology

Dissertation / Thesis Supervisor

Dr Lucy Huskinson
Senior Lecturer and Deputy Head of School

School of Philosophy & Religion

Special Recognition Award

Karen Pollock

School of History and Archaeology

Student Engagement Award

Mandy Angharad

Together We

International Award

Alan Edwards

International Education Centre

New Teacher of the Year Award

Alyson Moyes

School of Medical Sciences

Postgraduate Teacher of the Year

Rebecca Jones

School of Environment, Natural Resources and Geography

Unsung Hero Award

Rebecca Jones

School of Environment, Natural Resources and Geography

Teacher of the Year

Dylan Wyn Jones

School of Medical Sciences

Support Staff Member of the Year

Gwenda Blackmore

Money Support Unit

School of the Year

School of Welsh
More photos are available on Seren's Facebook page.
Publication date: 21 April 2018