Student opportunity to support Bangor University's Team in University Challenge Quarter Final Game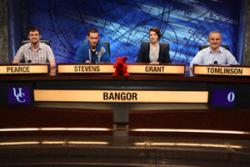 Bangor University students are gearing up cheer their team on in their third televised round of University Challenge on BBC 2 Wales at 8.00 pm on Monday 11 February 2013.
Having successfully seen off challenges from both the University of Durham and the University of St Andrews in previous rounds, the Bangor University Team are now through to the Quarter Finals and appear against University College London (UCL).
The Team got off to a flying start in both programmes broadcast so far. In the last, against Durham University, their answers to topics as wide-ranging as confectionery, the eye and The Peloponnese put them in the lead from the outset. The University of Durham slowly caught- up, briefly taking the lead, before Bangor University's final success, closing the show with 175 to 165.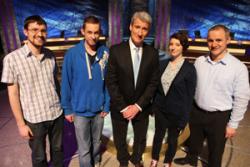 Will the next show provide nail- biting tension for Bangor University's supporters?
The programme is being screened at Bar Uno and also in Braint Common Room on the University's Ffriddoedd Residential site to give Bangor University's students an opportunity to support and cheer on their team of:, Nina Grant, (Team Captain); Simon Tomlinson, Mark Stevens and Adam Pearce
Students' Union President Antony Butcher said: "It's brilliant to see Bangor being the only Welsh University to have got so far on TV this series – I truly think they have done Bangor proud."
Bangor University reached the Semi Finals in 1999.
Publication date: 7 February 2013