Student satisfaction soaring at Bangor's School of Media
Students at Bangor University's School of Creative Studies and Media are again amongst the most satisfied in the United Kingdom, with an overall satisfaction score of 98%.
The school's journalism program was rated the best in the UK for student satisfaction, out of 51 other courses, with a perfect 100% rating. Professional Writing also attained a perfect score.
Creative Writing and Media Studies were also rated in the top 10 in the UK by students.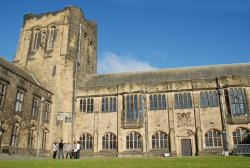 Creative Writing was rated 5th out of 48 other courses, and Media Studies 7th out of 86 courses.
The results are drawn from the National Student Survey, a poll of around half a million graduating students at each university in the UK.
The yearly results provide the most comprehensive feedback on the student experience at each institution.
"These excellent results mean that the School is meeting the personal and professional needs of our students," said Eben Muse, the Head of School.
"The School is especially gratified to see that students rated highly the passion and commitment of our staff; that – the academic community that a committed group of staff and students can create – is the heart of a successful University experience.
"Journalism and Professional Writing, subjects that received a 100% satisfaction rating, are excellent examples of the marriage of practice and theory in which the School specializes."
Bangor University again leads Welsh universities in the most recent measure of student satisfaction, and is among the top 10 of the UK's best non-specialist universities.
Publication date: 14 August 2015