Student Speed Spelling Sensations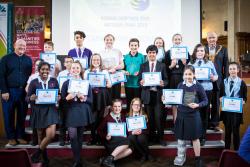 Winners and finalists displaying their trophies with Councillor John Wyn Williams, Mayor of Bangor, and Hywel Williams, MP for Arfon (left).Over thirty year seven pupils from eleven schools across Wales came to Bangor University recently to compete in the national final of the Routes into Languages Cymru Spelling Bee competition, a collaborative project between five Welsh universities, the four regional consortia and the British Council to promote language learning and increase the number of young people choosing to study modern foreign languages.
Pupils competed against the clock to win the title of Spelling Bee Champion 2019 and a glass trophy in one of four categories. Competitors were supported by teachers, parents, and the student language ambassadors of Bangor University's School of Languages, Literatures & Linguistics. The finalists had already competed in three previous rounds to make it to the national final where they had 60 seconds to correctly spell as many words as they could from a possible one hundred French, German, Spanish, or Welsh words.
Four of the five north Wales schools participating, in the GwE consortium, made it to the final round. Emma James of St. Joseph's Catholic and Anglican High School came first in the German spelling final. Other finalists from north Wales include Joseph Greenall (St. Joseph's, German), Alexandra Owen-Hatfield (Alun School, German), Grace Powell (Ysgol Eirias, German), Amelie Surridge (Ysgol Eirias, French), Safiya Wandji (St. Joseph's, French), and Chloe Jackson (Ysgol Rhiwabon, French).
Rachel Large, Head of Modern Foreign Languages at St. Joseph's Catholic and Anglican High School praised the spelling bee and Routes into Languages Cymru, saying:
"For our pupils who have taken part each year, the spelling bee has given them the confidence to just give languages "a go" and they have seen the importance of languages in the wider world".
Beverley Gordon, Head of Languages at Ysgol Eirias, said:
"Despite being nervous, our pupils thoroughly enjoyed their Spelling Bee experience & their day at Bangor University. They all felt that learning the vocabulary for the competition had improved their language skills and competing on the day had given them confidence. We are extremely proud of our four pupils for all their hard work and delighted that Eirias pupils were placed third in both the French & German Spelling Bees – a great way to help us inspire the next generation of linguists!"
Simon Clark, Head of French at Ysgol Alun, said: "I'm head of French at the Alun School and it's the first time we have completed in the event. Alexandra had an amazing time and we are very proud of her. She exceeded her own expectations and has improved not only her spelling but her confidence as well. We would love to compete again next year!"
Dr Jonathan Ervine, Senior Lecturer of French at the University's School of Languages, Literatures & Linguistics, and one of the judges for the French category, said:
"It was fantastic to host the Routes Cymru Spelling Bee here in Bangor, and to see the enthusiasm and skills of the pupils who were competing. The standards that they reached were truly astounding and I know that they left many people, including our local MP, highly impressed."
Sylvie Gartau, GwE Global Futures Coordinator, and Stephanie Ellis-Williams, GwE Global Futures Language Lead said:
"It was a very successful day! It was a great opportunity for Year 7 pupils from all over Wales to show their enthusiasm towards language learning. They are all great ambassadors! Thank you to Routes Cymru and Bangor University for organising the final in north Wales for the first time. Thank you to all pupils who took part and to teachers for their support!"
Representatives from Goethe Institut, the Spanish Embassy Education Office, Institut Français, GwE Global Futures, Europe Direct Wrexham, Anglesey Sea Zoo, Bangor University and Cardiff University took part in the event by delivering talks to the students, organising information stands or judging the rounds of the competition for each language category. The event was organised by the project coordinators in the north, Rubén Chapela-Orri, and the south, Meleri Jenkins.
Special guests in attendance of the final included Councillor John Wyn Williams (Mayor of the City of Bangor) and Hywel Williams (MP for Arfon), the latter of whom found that "It was a great event. The young people were truly inspiring (and humbling to a mere bilingual!)"
Publication date: 15 July 2019