Student with the best results in his final year graduates
A local student will receive an award during his graduation ceremony this week.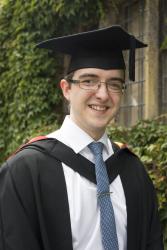 Sion Hughes
Siôn Elwyn Hughes, 21, from Bethel, Caernarfon will be graduating from Bangor University with a BA First Class Honors degree in Welsh. Siôn is the winner of the Sir John Morris Jones prize. The award was established over forty years ago and is awarded to the student who received the best results in his or her final year.

Siôn said: "It is exciting and a great relief to be graduating!

"I am a former pupil of Ysgol Bethel and Ysgol Brynrefail. I studied Welsh, History and Music at A level and I won the Welsh Excellence Scholarship to study Welsh at Bangor University.

"I chose to come to Bangor because this was the best course, its Welsh community and it is also close to home.

"I worked during my time at Bangor. This was very helpful in funding my course and university life as well as the life skills I learnt. I also had the opportunity to go on work experience at two organizations, Canolfan Bedwyr and Gwynedd Council, during the course.

"I was part of the Welsh Drama Society and contributed to the Welsh student newspaper "Y Llef'. I was also a member of Aelwyd JMJ.
"I hope to go to a job that I will enjoy in the future, but I have no idea about what career to pursue just yet!"
Publication date: 12 July 2013