Students create exclusive jewellery range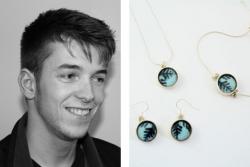 Elgan Jones and the work he has in the exhibition.An exclusive range of high quality jewellery by design students at Bangor University is currently on sale at MOSTYN in Llandudno.
The contemporary art gallery has worked with BSc Product Design degree course staff and students on a design project to create the range of jewellery items suitable for the MOSTYN shop.
The work exhibited represent a selection of the student's work. Many of the pieces took both the location and the countryside as their inspiration, and this is clearly reflected in the pieces.
Katie Roberts, Product Design Lecturer at the School fo Education and Human Development said:
"Experience is vital in any field, and opportunities to work with companies and organisations who are passionate about developing the next generation of designers and creative thinkers are priceless, so this project has been a great asset for these students."
"We place great emphasis on providing real creative challenges for our students. In addition to a range of live project briefs such as this one, students undertake three placements whilst on the course. Spending between eight to ten weeks each year on placement builds our students' professional experiences, and makes our Product Design course unique in the UK."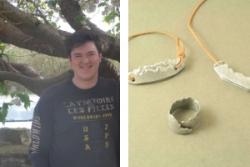 Steffan Jones and the work he has on sale."It was fascinating to see how each student approached the brief and developed their jewellery range to suit our visitor's needs," said Barry Morris of Mostyn.
"As part of my role as Retail Manager I'm always on the look-out for emerging talent, and we're always keen to support makers and give them a platform for their work, so the live brief was a perfect opportunity for us.
The jewellery that was selected to be displayed here in the shop at MOSTYN has received a lot of attention from customers, and quite a few pieces are already heading off to new homes! We're excited to see what the students do next and wish them all the best with their future careers."
Thomas Mott, from Darwen, Blackburn is one of the students whose work is on display.
He said: "Its awesome to know that my work is already getting out there and I can't wait to see where else I can go."
A former Clitheroe Royal Grammar Sixth form students, Thomas is looking forward to completing his degree and finding work in a design consultancy.
He says his course provides plenty of lecturer and mentor contact, which gives him access to strategic help to achieve his career goals and also gives the course a family feel.
Steffan Jones of Llanfairpwll has had a passion for art and design from a young age. He said: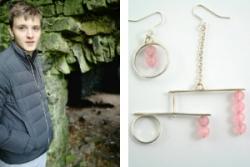 Tom, whose work is included in the Exhibition."The best part of having the jewellery on display and having had it sold is knowing that someone loved what you created so much, that they decided to spend their own money on it. It's a special feeling."
He added: "Having so much success with the jewellery project has made me realise that I really enjoy designing and making bespoke and unique items, so for my third year, I have decided to explore starting up my own furniture business, as my end goal has always been a career in furniture design"
Elgan Jones of Llannefydd, Denbigh, a former Ysgol Glan Clwyd students also has work on display and says that he feels "Privileged to have my work exhibited at such a well-known gallery."
He has valued the experiences of three work placements, which he sees as readying him as ân 'industry-ready' designer. Growing up on a farm, he has been surrounded by all sorts of machinery, and a desire to know what makes them 'tick'. He chose to study the Product Design degree due to his interest in design and engineering. After graduating, he hopes to follow a Masters degree in Mechanical Engineering and then following a career as design engineer.
MOSTYN is a registered UK charity and all income generated by the shop and retail galleries is invested back into MOSTYN's exhibition, learning and engagement programme.
Publication date: 26 October 2018