Students donate over a tonne of food for local food Bank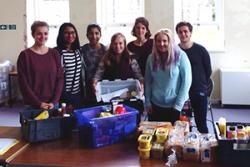 SVB students with some of the collected food.Student Volunteering Bangor (SVB) have been dedicating their time and effort to collecting food from Student Halls from across Bangor and donating the food to the local Cathedral Food Bank.
Throughout May students from all across the University have been working hard to make sure their food doesn't go to waste and Student Services have been busy providing the energy and resources to make sure the food goes to those who need it.
Helen Roberts, Food Bank Co-ordinator with the Cathedral Food Bank, said she was: "very grateful thanks to everyone involved, who have gone the second, third, fourth mile to make this happen."
She then added: "It has been an enormous task, and a hugely successful project, and has enable us at the food bank to in turn be generous to those who use our service."
The local Food Bank provides local families with 3 day food packs in their time of hardship. The Food Bank relies wholly on donations and have been overwhelmed by the generosity shown by the students during the last month.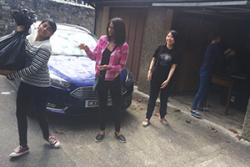 Delivering the food to be distributedSVB's Gaz Williams commented:
"The SVB Big Give project has been a massive success which through the hard work by Bangor University's volunteers and the generosity of Bangor University's students has managed to collect just over a tonne of food which has been donated to a very worthwhile local charity. It has been amazing to see how much food can actually be diverted away from the waste stream and reinvested back into the community".
An incredible 1,040 Kg of non-perishable food was collected from the student Halls and local service users have already benefited from the kindness of Bangor students by receiving an even more generous pack than usual.
Publication date: 28 June 2016