Students forge vital links with employers at law careers fair
Students at north Wales's only Law School have had an exclusive opportunity to meet and network with some of the region's most prominent employers at a dedicated legal careers event.
Bangor Law School's annual Law Fair, which took place at the university on Wednesday, 2nd November, united aspiring lawyers with a range of recruiters from North Wales and the North West, from barristers' chambers to the non-legal sectors.
Once again, Sir Roderick Evans, former Presiding Judge for Wales, formally opened the proceedings and presided over a mock trial between students.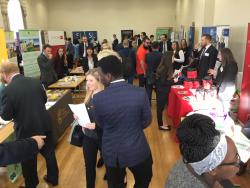 Students attending the Law Fair at Neuadd Reichel
The aim of Bangor's Law Fair is to demonstrate the diverse job opportunities available to law graduates, from the traditional barrister and solicitor routes to banking and local government. Specialised breakout sessions helped them to learn more about these various career pathways and offered them a chance to discuss their options in more detail with employers.
Now in its fourth year, the Fair is the latest in a line of efforts by the Law School to enhance students' employability. "It is initiatives like this that result in our high graduate employment rate, and excellent student satisfaction results", explains Professor Dermot Cahill, Head of Bangor Law School. "My colleague Gwilym Owen and his team have built this Fair into a major annual event, and employers from across a wide range of careers are now seeking to get involved, as they know that Bangor Law School is the place to come to when looking for top graduates."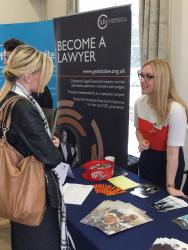 CILEx
Many of the exhibitors, including Silverman Sherliker, were making a return visit to the Law Fair. "As ever, the Law Fair was a pleasure to attend and well run", commented Martin Donoghue, LLP Partner. "I have always found Bangor Law students to be engaging and interesting to talk to, and I am always happy to attend in our hunt for potential recruits."
Swayne Johnson Solicitors was another of those returning: "we were happy to support Bangor University's Law Fair for the third year running. We were impressed with the quality and enthusiasm of the students and were glad to provide an insight into a career in law", said Shaun Hughes, Solicitor.
As part of its wider efforts to inspire the next generation of lawyers, Bangor Law School will also be hosting a Law Conference for local sixth formers on Wednesday, 23rd November. Around 140 pupils from North Wales schools and Further Education colleges will attend this taster day, giving them a chance to see first-hand the reality of studying a law degree.
With thanks to all the exhibitors who attended: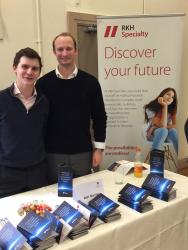 RKH Speciality

Andrew Hughes Wealth Management
Barclays
Bar Pro Bono
BIS Legal
BPP
Heddlu Trafnidiaeth Prydain
Gwasanaeth Gyrfaoedd a Chyflogadwyedd Prifysgol Bangor
CILEx
Cyngor Ar Bopeth
Civitas Law
Coleg Cymraeg Cenedlaethol
Y Cwmni Adsefydlu Cymunedol
Cyngor Gwynedd
DAS
Fieldings Porter
Gamlins
Hugh James
JMW Solicitors
Jones Davey
Knox Commercial
Knights
Linenhall Chambers
Ynadon
Cymdeithas Ynadon Gogledd Orllewin Cymru
RKH Marine & Energy
Silverman Sherliker
Prifysgol Abertawe
Swayne Johnson
Gwasg Prifysgol Cymru
7 Harrington Street Chambers
25 Bedford Row
Publication date: 11 November 2016