Success for Law staff in Student-Led Teaching Awards
There was success for Bangor Law School staff earlier this month as two members clinched prizes at Bangor University's Student-Led Teaching Awards.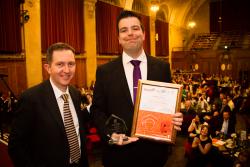 Stephen Clear, right, with Professor Oliver Turnbull, Pro Vice-Chancellor for Teaching and Learning, at the ceremony.
PhD student Stephen Clear, who juggles his doctoral studies with his role as Legal Research Support Officer at the Law School's Institute for Competition and Procurement Studies (ICPS), won the Postgraduate Teacher of the Year award. Stephen teaches on the undergraduate Legal Skills module and is a postgraduate tutor in Public Law, and also acts as Mooting Skills Co-ordinator for the School.
One of the nominations received for Stephen stated: "Stephen's classes are informative and entertaining. He listens to his students and makes an effort to make his subject come alive. This year he took us to Manchester Crown Court before our moot assessment, and arranged for actors to come into our lectures so as to improve our public speaking confidence. He has a passion for what he teaches us. Stephen's commitment to his job is more than just that which he gives in the classroom. His door is always open and he genuinely cares about his students".
Dr Pedro Telles picked up the Innovation Award for his innovative teaching practices and assessments on the Startup Law module. This module aims to give undergraduate students practical experience of what it is like to work as a lawyer by placing them in a made-up scenario where they are required to implement and apply their legal skills. Dr Telles is also a Procurement Law Specialist for the ICPS.
Run by Bangor Students' Union together with the University, the Student-Led Teaching Awards recognises the dedication and commitment of Bangor's teaching and support staff. All awards are nominated for by the students.
Publication date: 26 April 2013