Successful Jobs Fair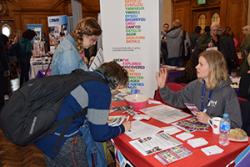 Some of the participants at the Jobs Fair. A very successful Jobs Fair was held in PJ Hall at Bangor University recently(28/09/16). There were over 45 stalls with representatives present from graduate employers, local companies and voluntary organizations.
In all over 1350 attended the event including students and local jobseekers. This event was a collaboration between the Careers and Employability Service at the University and the local Department of Work and Pensions Office/ Job Centre.
The provision included some break-out sessions on different topics such as CVs, Interview Techniques and Digital Recruitment as well as a specific Employability event for International Students.
A local employer (Oriel Môn) believed it was a very effective event as it gave them "a mix of audience we can't reach through traditional marketing methods."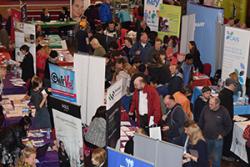 The Head of Service at the Careers and Employability Service at the University, Chris Little, added that he "welcomed such a collaborative event to help foster stronger links between the university, both local and national employers and the wider local community." Jobcentre Plus colleagues agreed that the event was very well attended by both DWP Customers and Students and they looked "forward to strengthening the collaborative work undertaken with similar events in the future."
Publication date: 11 October 2016