'Summer School' for student business 'start-ups'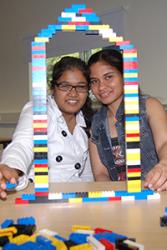 Ishani Chakravorty from India and Julianne Boulton from Sri Lanka undertaking an entrepreneurship challenge using building bricks at the Start up Summer SchoolWith small to medium sized companies providing a vital foundation to Wales' economy, Bangor University places an emphasis on supporting and encouraging students to consider entrepreneurship as an important avenue of future employment. Students and graduates often have the creativity and knowledge to venture into this important economic sector- which spans industries and services.
A 'Start –Up Summer School' is taking place at Bangor University of 10-11 June. The event takes students through the process of becoming an entrepreneur, paying close attention to developing the idea and marketing, capitalising on all-important social media channels for marketing and extending their business. The Summer School ends with a 'Dragon's Den'-style challenge for the participants.
In 2012, Bangor University formed a Regional Hub Partnership with Grŵp Menai Llandrillo and receives funding from the Welsh Government to run joint enterprise activities. The Start Up School is therefore also open to Further Education students from Grŵp Menai Llandrillo as well as Bangor University's own students and graduates.
The Summer School is led by Tim Ashcroft, an entrepreneur and experienced business mentor from Innovas, who is currently supporting many final year students and graduates who are starting a business and Chris Walker, International Business Consultant and Start Up Mentor for the HEFCW funded Enterprise Support Programme.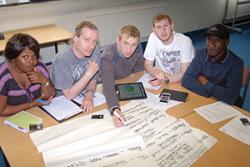 Bangor University student Chinyere Opara, Byrom Barr a Coleg Llandrillo Photography HND graduate, graduate David Kyle, Computer Science student Lee Williams and Business and Finance student Bukar Bolori learn about promoting their businessesChris Little, Head of the Careers and Employability Service explains "Our Entrepreneurship activities provide students with the incentives and know- how to start their own businesses or to consider entrepreneurship during their future careers. We assist students in identifying and developing those skills that will enhance their employability, whether they are considering regular employment or want to branch out in business on their own or with partners at some point in their careers."
The Start-Up Summer School is only one of a wide range of activities organised throughout the year by the University's B-Enterprising Programme at the Careers and Employability Service. As well as the Summer School, the Service provides a wide range of enterprise activities including competitions, business mentoring and other related skills workshops and seminars.
This event forms part of the University's activities during a week-long Welsh Universities – Driving Growth campaign (10th to the 14th of June 2013), which celebrates the strength of the sector as well as investigating and drawing conclusions about key ways higher education institutions can contribute even further in delivering jobs, award winning research and growth here in Wales.


Publication date: 7 June 2013