'Te bach' on the Eisteddfod Field to celebrate Patagonian anniversary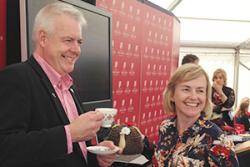 Carwyn Jones with Elen SimpsonWhat better way to celebrate the 150th anniversary of the Welsh community in Patagonia, and to highlight a unique and priceless collection of documents relating to the establishment of the Welsh community in Patagonia, a selection of which are on current display in an exhibition at Bangor University, than to hold a traditional 'tê bach'.
Having recently returned from the 150th celebrations in Patagonia, Carwyn Jones, Welsh First Minister will be attending the 'te bach' at Bangor University's stand at the Eisteddfod field at 2.30 on Monday.
First Minister Carwyn Jones said: "Having just returned from Patagonia where I marked the 150th anniversary of the establishment of Y Wladfa, I'm really looking forward to visiting Bangor University's stand at the Eisteddfod."The descendants of Welsh settlers in Argentina have a special place in the hearts of people in Wales. I hope this lasts long into the future and I've enjoyed cementing and celebrating the strong links that still exist, despite there being 7,500 miles between us."

Bangor has the largest collection of material relating to the Welsh colony in Patagonia outside the National Library of Wales. The Exhibition, 'The Welsh in Patagonia', with items from the wider collection, can be seen in Bangor University until until 18 December 2015. The Exhibition is in the Council Chamber corridor, Main Building, Bangor University and is accessible during normal office hours.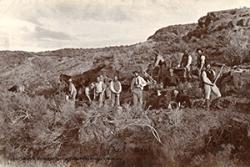 Building a road to Cwm Hyfryd c1888. In the middle, wearing a white coat, stands Llwyd ap Iwan, son of Michael D Jones, who was murdered in 1909, by bandits. Copies of certain items from the exhibition will be available during the 'tê bach'. These will be accompanied by a screening of some of the earliest photographs from the settlement, taken by John Murray Thomas. Bangor University Archivist Elen Simpson will provide some context and Mari Emlyn will read extracts from the letters of Mihangel ap Iwan, the son of Michael D Jones, writing from Y Wladfa.
An amalgamation of several acquisitions amassing over 1500 items, the Patagonia Collection at the University's Archives & Special Collections, comprises manuscripts, letters, photographs, diaries, newspapers, books and plans presenting first-hand accounts and photographic evidence of the lives of the pioneers and settlers who strived for linguistic and religious freedom with political autonomy 8000 miles away from their homeland.
Publication date: 31 July 2015