Team Chemistry Zip Challenge for Hope House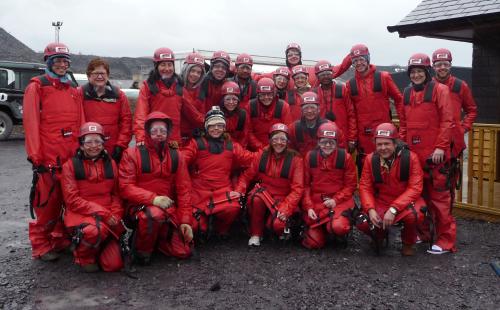 Team Chemistry before the challenge!
A team of thrill-seekers from Bangor University's School of Chemistry took to the wires recently to raise money for Hope House Children's hospice. The team, consisting of undergraduate, post-graduate, post doctorial, academic and administrative staff from the School braved the north Wales elements to raise money for the worthy local charity.
Zip World is a recently opened zip wire which spans Penthyn Quarry in Bethesda in the foothills of Snowdonia. The two zip wires are the longest and second longest in Europe. Due to 45mph gusts of wind and driving rain the team were only able to complete the first part of their challenge – the "little Zipper". However, they returned free of charge to undertake the final and largest part of the charity challenge; the "Big Zipper", a mile long zip wire which can reach speeds of over 90mph.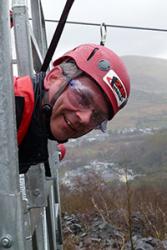 Dr Mike BeckettDr Mike Beckett, Head of the School of Chemistry said:
"I am not sure how I managed to let the office team convince me that this was a good idea! I am not great with heights and with high winds and torrential rain the little zipper was a feat in itself. Huge thanks to the team at Zip World who looked after us all extremely well, the safety checks each person undergoes were extremely thorough which really helped those of us who were nervous about the challenge.
"We are extremely grateful to Zip World for not only allowing us to complete the challenge on another day free of charge but also for their professionalism and help during the organisation and challenge itself. The Zip World team have been fantastic."
The team have already raised in excess of £2,000. For those who wish to give to this extremely worthy charity please visit the Team Chemistry Just Giving page: http://www.justgiving.com/ChemistryZipWireChallenge
Publication date: 24 May 2013