"That's a wrap" Film-making student graduates
A business-minded Bangor University student graduates this week after three years of hard work and an illustrious beginning to his film-making career.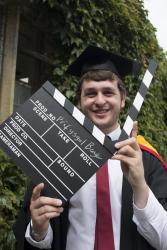 Osian Williams
Former Ysgol Gyfun Rhydfelen pupil, Osian Williams, 21, from Pontypridd, will graduate with a first class BA Communication and Media degree. Osian was also awarded a prize for the best practical dissertation by the School of Creative Studies and Media. During his time at Bangor, Osian set up his own successful media company, and was involved in some award winning productions.
Osian said: "I came to Bangor because it was the university I had always wanted to go to. Since coming to Bangor, I have started a career in film-making and thanks to the help from the staff; I have been able to make good progression over the last three years.
"I chose to study at Bangor as I'm a big fan of the surrounding area. Snowdonia is an awesome place. Also, Bangor was always on the top of my university list since GCSE year. I don't know why but it just seemed like the right university for me.
"I started my own production company, SSP Media, in my second year and I worked for a number of different clients in the UK and some in America. Since then, my work outside university hasn't stopped. It was very hard initially balancing my university work and my business, but I developed a mind-set that was needed to get the work done.
"I have been very lucky during my time here, having worked on a number of different projects with the University and various organisations. Within the University, I have been able to capture a number of different and interesting events held by Pontio, Bangor. I have also been co-running a film school with Pontio in schools around the Bangor area. My girlfriend, Amy, is doing her degree in French and Welsh at Bangor, and she spent a year in Paris as a part of her degree, which proved to be great fun going out there a number of times!
"I was a member of the Student Radio, Storm FM and the Film Society during my first year. Unfortunately, as my business evolved, I didn't get enough time to keep this up. I'd urge anyone who comes to Bangor to take advantage of the variation of societies here.
"Many have a stereotypical view of student life consisting of partying and not much else, so they tend to live up to that stereotype to impress others. I broke away from this and took full advantage of what Bangor and it's variety of students had to offer.
"I will continue to study at Bangor in September, by starting a Masters in film-making, and I hope to continue with my company. I am very grateful to have made such great friends at University and to have had the opportunity to progress as a film-maker."
See also:
More American success for Osian
Bangor student looks forward to RTS Awards
Bangor University student takes on MTV
Osian Williams - Communication and Journalism
Publication date: 12 July 2013