'The Big Give' Project 2013
Bangor University students keen to affect the amount of rubbish produced by those moving out of halls of residence have been hard at work recently. The Big Give is a volunteering project run annually by Student Volunteering Bangor where volunteers work with residents in the university halls and enable them to donate items that they don't wish to take home with them.
Blue collection boxes are placed in each hall building and collections are then made regularly over a period of a month as students move out. Each year, the aim is to divert as much waste as possible from landfill and students work throughout the year to identify new homes for the thousands of items that will be donated.
This year the project has collected over one and a half tonnes of clothing, over half a tonne of rags for recycling and 37 bags of shoes and handbags which have all been donated to local charity shops along with 18 boxes of bric-a-brac. 118 duvets were collected and donated to three local animal shelters including the RSPCA for animal bedding. Over 60 large boxes of household items have been donated to St. Mary's Hostel in Bangor, run by the North Wales Housing Association which will then be used to help people who are moving on to independent living.
13 boxes of food and toiletries were donated to the Lighthouse in Holyhead, a centre for roughsleepers and homeless people. Due to the volume of the donation, surplus food was passed on to 2 local food banks.
T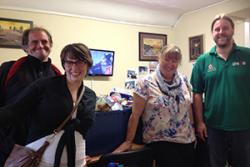 Volunteers, Johanna Illers and Tref Alun meet staff and service users at the Lighthouse Day Centre in Holyhead which received 13 boxes of food donated by Bangor University students.refor Alun, one of the students volunteering to co-ordinate the Big Give this year spoke about the impact that this has on the community. "Obviously, the main aim of the project is to stop what would be a huge amount of waste going into landfill. Without having a team of people to collect and then sort the items, it would not be possible to divert and recycle this waste. Donating the items on to other charities in the area is a hugely positive thing because it offers a real helping hand to these organisations and those who benefit from their services."
Student Volunteering Bangor operates 22 other community projects in Bangor and the surrounding area and have over 600 volunteering opportunities. Anyone wanting to get in touch about this or any of our other projects can call staff on 01248 388021.
Publication date: 24 July 2013