The Coleg Cymraeg appoints new Higher Education Ambassadors from Bangor University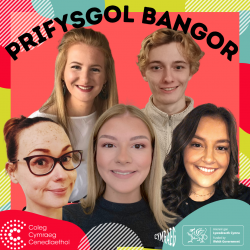 The Coleg Cymraeg has appointed five new ambassadors from Bangor University for 2021 to make some noise and encourage more prospective students to take an interest in Welsh-medium higher education.
There are 26 ambassadors in total this year based at seven universities across Wales.
Mari Lois Evans, Primary Education student, Lowri Wyn Davies, Primary Education with QTS student, Elin Llywelyn Wiliams and Sioned Mair Williams, Midwifery students and Lleu Arthu Pryce, Journalism and Media student will start their work this month and be responsible for completing various tasks throughout the year.
Their main role as ambassadors will be to encourage more learners from schools and further education colleges to pursue their studies through the medium of Welsh and explain the benefits of doing so.
They will represent the Coleg Cymraeg in a variety of ways online, including by giving presentations, creating and contributing to the Coleg's social media content, writing blogs and creating 'Sŵn y Stiwdants' podcasts.
The Coleg Cymraeg's Marketing Manager, Elin Williams, said:
"The ambassadors make an important contribution in spreading the message about Welsh language student life at our universities and the benefits of Welsh-medium education. As a result of the COVID-19 pandemic, promotion on social media and podcasts has become increasingly important. We look forward to working with an enthusiastic group of students from across Welsh universities once again this year."
Dr Llion Jones, Director of Bangor University's Canolfan Bedwyr commented:
"The five new ambassadors are part of a strong and vibrant Welsh language community at Bangor University which provides a sound basis for studying through the medium of Welsh. As a university, we take pride in the fact that we now have over 1,350 students who choose to study through the medium of Welsh."
'Sŵn y Stiwdants' podcasts can be heard on Spotify, where Welsh-speaking students share their experiences, be it about University life during a pandemic, their courses or chatting and putting the world to rights! You can also follow their adventures and see their pictures on the Coleg Cymraeg website and the 'Dy Ddyfodol Di' Instagram and Twitter pages and the 'Coleg Cymraeg' Facebook and YouTube pages.
Publication date: 16 February 2021