The future of agriculture in Wales: the way forward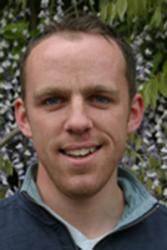 Dr Prysor Williams.Dr Prysor Williams, Senior Lecturer in Environmental Management at the University's School of Environment Natural Resources and Geography is one of the authors of a report on the vision for Welsh agriculture, launched by Welsh Government today (27 November 2017).
Amaeth Cymru the future of agriculture in Wales: the way forward, has been authored by Amaeth Cymru, a group whose membership covers a spectrum of interests, including farming unions, levy bodies, government, academics and industry experts.
Dr Prysor Williams was invited to join Amaeth Cymru due to his experience and research at the interface of agriculture and the environment. Amaeth Cymru – Agriculture Wales was established in 2015, following a Welsh Government consultation on a Strategic Framework for Welsh Agriculture.
Through joint working, Amaeth Cymru seeks to provide strong, collective leadership to move the industry forward and realise a shared vision for Welsh Agriculture. All partners have an important role to play and take collective responsibility for delivering the Vision.
Dr Williams commented:
"It has been insightful and fruitful working with such a diverse team of members with different expertise. The agricultural sector in Wales is potentially at the cusp of considerable challenges, but there are also opportunities to grow and enhance its resilience for the future. Agriculture has huge cultural and socio-economic value, as well as of course having a critical role to play in protecting and enhancing the capital of our natural environment and tackling climate change. Sustainable food production systems and the delivery of all the other goods society gets from the environment is in the interest of everyone in Wales and beyond. I look forward to continuing to work with key players in the industry to take this forward."
This document sets out the group's Vision for Welsh Agriculture, the associated outcomes, an overview of where the industry is currently and the strategic priorities that will need to address to achieve that Vision.
The document is set within the context of Taking Wales Forward – the government's programme to drive improvement in the Welsh economy and public services, delivering a Wales that is prosperous and secure, healthy and active, ambitious and learning, united and connected. The agricultural industry can play a key role in helping to deliver this agenda.
It focuses on the timescale until 2030, and will be reviewed periodically by Amaeth Cymru to ensure it remains consistent with emerging events.
Related documents:
Publication date: 27 November 2017