The muse returns at Harvard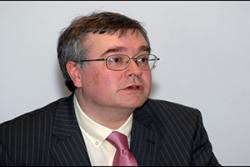 Professor Peredur LynchMany students at Bangor University's School of Welsh have taken advantage of the University's international partners in order to study abroad. One of their Professors has followed their example.
A sabbatical at Harvard University's Department of Celtic Languages and Literatures – one of Bangor University's partners in the field of Celtic Studies – gave Professor Peredur Lynch the opportunity to fulfil a long-held creative ambition and complete his first volume of poetry, Caeth a Rhydd (Captive and Free).
"After being a Head of School for six years, I was rewarded with a sabbatical term! With the opportunity to escape from the hustle and bustle of Bangor, I took advantage of Harvard's tranquility to finally produce a volume of poetry," said Peredur Lynch.
He is the youngest person ever to have won the Urdd Eisteddfod chair, and is considered to be one of the best Welsh poets who use the strict traditional form of cynghanedd. However, for many years his creative impulse was stifled by his dedication to more traditional scholarly work and administrative duties.
"Some of the initial ideas behind many of the poems had been tucked away in a dormant part of my head for years," he said, "but the main motivation to engage with poetry once again was the death of my father a few years ago." His father, the Reverend Evan Lynch (1917-2011), was a Presbyterian minister, and a series of ten poems in the volume was composed in his memory. Not only do the poems explore a son's relationship with his father, but also wider issues relating to faith and Christian testimony in the modern world.
"My father was ordained as a minister in 1945, right at the end of the Second World War," said Peredur Lynch. "The barbarity of that war, the Holocaust, Hiroshima and Nagasaki, had given a horrendous new context to one of the oldest theological challenges that face all men and women of faith – the need to reconcile the idea of an omnipotent and loving God with human suffering and tragedy."
The volume Caeth a Rhydd was published by Gwasg Carreg Gwalch and it has received enthusiastic reviews in literary periodicals such as Barddas ("a truly splendid volume" – Alan Llwyd), Barn ("exeptional poetry" – Derec Llwyd Morgan), and O'r Pedwar Gwynt ("the rich enchantment of old wine" – Gruffydd Aled Williams). And now that the desire to write poetry has resumed, Peredur Lynch has a number of other creative ideas brewing in his mind.
Another project he is embarking upon combines his creative and scholarly interests. Building on existing collaboration between himself and colleagues in Bangor's School of Psychology in the area of neuroesthetics, he aims to conduct a wide-ranging study of the revival of cynghanedd poetry in contemporary Wales. The study will analyse the revival in its literary, social and ideological contexts. It will also, hopefully, provide further opportunities to conduct empirical experiments on cognitive reactions to cynghanedd and the aesthetics of traditional Welsh strict-metre poetry.
Publication date: 16 April 2018