"This is how we do it at Bangor!"
Christmas has come early for a first year Film Studies student after he won a HD GoPro camera for coming first in a Viral Video Competition run by the University's Corporate Communications and Marketing Department.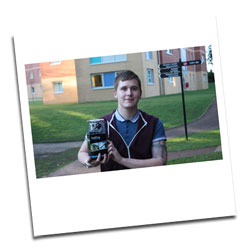 Reece Enfield, from Birmingham received the first prize after his video 'This is how we do it at Bangor' was chosen as the winner. The video features Reece and his friends robot dancing in various locations across Bangor to a very catchy tune that he created himself. Reece explains,
"Inspiration for the video rose from the craze that's going around at the moment following the success of the "Gangnam Style" song so I decided to create a little jokey dance to a really catchy tune. I never expected to get as far. When I found out that I had won, I was so excited. I was jumping up and down in my flat and knocked on my roommate's door screaming "I won! I won!"
"In the video we go around all the different locations that are important to students. I wanted to show what Bangor was about and the fun that comes with Bangor, not just the studying."
The viral video competition was launched in November to find a winning video that would give prospective students an insight into student life at Bangor. The wining video will be used in various marketing campaigns and will feature on the University's BangorTV site and You Tube channel.
Carys Roberts, Head of Student Recruitment said,
"The panel of judges (made up of staff from Corporate Communications and Marketing and the School of Creative Studies and Media) all agreed that Reece's video was by far the most original and that it captured the student life element of Bangor better than any other entry."
Reece is very excited about his prize and says he will put it to good use. He added,
"I'm doing Film Studies so I'll be using the camera to make more videos for my course and You Tube. The prize is amazing. It's going to help me so much."
Corporate Communications and Marketing hope to run a similar competition again next year. Reece thinks it's worth making the effort to take part. He added,
"I've just won a GoPro HD Hero 2 camera! I can't believe it! I would recommend to anyone who's got the ideas and the skills to create a video to take part in any future competitions because you never know…you might just win!"
To watch the video, click here
Publication date: 20 December 2012