'This Is Who I Am' – Free performance
Bangor University's School of History, Philosophy and Social Sciences are proud to be hosting a performance by Ice and Fire productions, part of the organisation Actor's for Human Rights, that develops original theatre pieces from human rights testimonies and documentary evidence and are shaped by the people and communities who they work closely with.
'This is Who I am' will be performed in the Univeri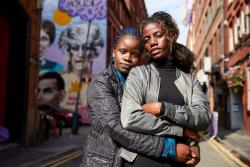 sty's Pontio, Room PL2 on Friday 13 March 2020 as 3.00- 4.30 and entry is free.
The organization Actors for Human Rights UK was established in 2006 after being inspired by an Australian Network called Actors for Refugees that was established in 2001 in response to the Australian government's controversial treatment of asylum seekers.
'This Is Who I Am' is a reading of first-hand accounts of LGBTQIA+ people's experiences of seeking refuge and the UK asylum process, by actors and performers.
Dr Corinna Patterson, Lecturer in Sociology and the School's Diversity Officer commented:
"'This Is Who I Am' addresses issues that the School are addressing, both within some of the modules offered within the school (Race, Democracy and Political Ideology, Identity and Diversity, Contemporary Social and Political Debates, Issues in Equality and Gender Perspectives to mention a few) and also within their broader ambition to address issues of equality and representation within the workplace.
We are also proud to make this performance open to the public free of charge."
Publication date: 28 February 2020