Three scholarships for a new course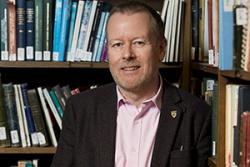 Professor Gerwyn WiliamsFor the next three years, a company providing office equipment to Bangor University will be awarding a students from the School of Welsh with a scholarship for a brand new degree course.
Lyreco's support is testament that the 'Professional Welsh' degree is one that meets the requirements of the workplace for people who use the language in a wide range of areas, from offices to the political world.
The course commences this September, drawing on the expertise of Canolfan Bedwyr staff in language planning and technological developments that may transform the use of Welsh in the world of work.
"The modules include language planning and 'From the Senate to the Office' (O'r Senedd i'r Swyddfa), which focuses on legislation relating to Welsh," said Professor Gerwyn Wiliams, Head of the School of Welsh.
The course includes a strong element of work placement with organisations and companies who use Welsh in their everyday work, and in their third year, students will submit a project on a topic of their choice.
"We're very proud that Lyreco has chosen to offer these scholarships," says Gerwyn Wiliams. "It signifies their relationship with the University and the importance of a new course such as this one which has a vocational emphasis.
"There are many different scholarships available to help students study at the School of Welsh but this is specifically for a field that is becoming more and more important."
Publication date: 14 March 2018