Three Sustainability Awards for Undeb Bangor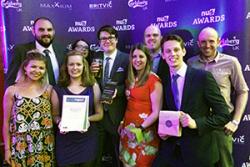 At the Awards ceremony l-r from back row then r-l: Matt Day, Carmen Ria Smith, Conor Savage, Dylan Williams, Rob Samuel, Ifan James, Mair Rowlands, Rebecca Kent, Helen Marchant.Undeb Bangor (Bangor University Students' Union) has picked up not one, or two, but three Awards for their sustainability work.
The Students' Union was awarded a highly coveted Gold Award in the NUS Green Impact Awards, having achieved the Gold Award twice in 2011 and 2013 and the Excellence Award twice in 2012-13 for their 'Bangor Bikes' scheme pilot and 2014-15 for Love Bangor Community Partnership. They were also named Union of the Year (non-commercial) Green Impact Awards in Liverpool.
Green Impact is an environmental accreditation scheme run by NUS, offering an independent benchmarking of a union's environmental performance. The award challenges Students' Unions to follow environmental best practice and keep sustainability in mind whilst achieving results for students. The Green Impact Award also seeks to capture the positive sustainability innovations in students' unions and promote them to the public.
The Students' Union also grabbed a third National Award: The Green Impact Special Award. This award is an Environmental Innovation Award that gives union's the opportunity to go beyond the actions described in the Green Impact criteria and use their creativity to make a real impact in their union, organisation or community. Undeb Bangor's entry was a joint student initiative to promote Sustainable Development through shared learning across continents; a partnership between Undeb Bangor and Makerere University Student Guild –Uganda.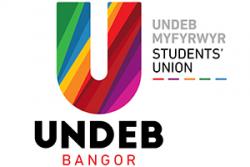 Mair Rowlands, Bangor University Sustainability Officer from the Sustainability Lab who co-ordinates the Green Impact work with the Union said: "We've achieved an amazing amount through Green Impact over the last 6 years, and Undeb Bangor have proved to be championing sustainability showing the way to Unions' across the UK.
We've also gained national recognition for our international collaboration with Makerere University Student Guild winning the Green Impact Special Award. A collaboration project with the Sustainability Lab and Undeb Bangor working closely to develop a sustainability strategy aimed at improving students' understanding and engagement with sustainability practices in Bangor and Makerere (Uganda)."
Dylan Williams Union Director said: "This is yet another amazing achievement for Undeb Bangor; we've proved that we are doing some excellent work around sustainability and as well as sustainability being one of our core values, it is entirely embedded within the culture of the Union staff, officers and students. We're very proud of our progress and we've developed a national reputation for sustainability for which these awards speak for themselves".
For more information about sustainability at the Union go to: http://www.bangorstudents.com/sustainability/StudentsUnion.php.en
Publication date: 8 July 2016