Top of the class: Annabelle is recognised as one of the best law students in the UK
A second year Law student at Bangor University has reached the finals of a national competition to find the UK's best law undergraduate.
Annabelle Joy, from Crewe, has beaten hundreds of other candidates to reach the final 10 of the Target Jobs Law Undergraduate of the Year competition, sponsored by Mayer Brown, one of the world's leading law firms.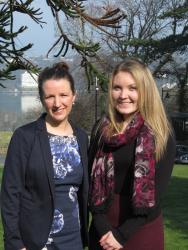 Annabelle Joy (right) with Law lecturer Dr Yvonne McDermott Rees
The deserving winner, to be announced at an award ceremony in London at the end of April, will win an iPad and a prestigious three-week vacation scheme with Mayer Brown – an honour for any aspiring solicitor.
"When I entered the competition I never thought that I would get this far, so I am over the moon", said 20-year-old Annabelle, a student on Bangor's LLB programme in Law. "I am extremely proud of the fact that I have made it to the top ten and I am very excited about the final!"
The former pupil of St Thomas More Catholic High School, Northwich, was encouraged to enter the competition by lecturer Dr Yvonne McDermott Rees, who has supported her throughout the process. She credits her success to her lecturers: "One of the entry criteria was that you need to be expected to attain a 2:1 or above, and the teaching at the law school has allowed me to achieve this so far in my studies. This is due to the supportive and approachable nature of the staff, as well as the small class sizes".
The tough application process involved answering three questions set by Mayer Brown and undertaking online tests in situational judgement, inductive reasoning and an occupational personality questionnaire. Having earned her place in the top 35, Annabelle was then handpicked by Mayer Brown as one of the 10 finalists, who were all recently invited to the firm's London offices for their final challenge: delivering a ten-minute presentation on a recent news story.
"I chose to present on the UK's decision to become a prospective founding member of the Asian Infrastructure Investment Bank, and the impact this could potentially have on the legal sector, and more specifically, Mayer Brown", said Annabelle, whose dream is to work at a City law firm. "After the presentations, there was a chance to network with the other finalists and solicitors from the firm. This was very useful as I gained advice on how to make my applications for training contracts stand out, and learned about the different routes the solicitors had taken to be where they are now. Overall, the day was a brilliant experience and I'm now looking forward to seeing everyone again at the awards ceremony."
Dr Yvonne McDermott Rees, lecturer in Law, was thrilled at Annabelle's success. "Annabelle is an exceptional student and fully deserves to be crowned Law Undergraduate of the Year 2015 in April! Getting to this stage of the competition has given her the opportunity to network with some of the UK's top lawyers, as well as the leading lawyers of the future, and this will surely enhance her employability – something we value very highly here at Bangor Law School."
Annabelle and her fellow finalists will find out who the winner is at a glitzy award ceremony in Canary Wharf on 24th April. For further details about the competition, visit http://undergraduateoftheyear.com/law
Publication date: 27 March 2015