Top Student Nurse Graduates
Through hard work and commitment, a Bangor University student will be graduating with a first-class Bachelor of Nursing – Learning Disabilities degree this week.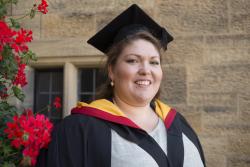 Georgina Hobson
Former Ysgol John Bright pupil, Georgina Hobson, 29, from Llandudno Junction previously worked as a drama tutor in America at a summer camp for people with special needs. She did this for a couple of years before having to return home to support her family and care for her mother. Georgina then spent some time supporting a gentleman with MS, who encouraged her to further her education, and one of his district nurses suggested that she pursued a career in learning disabilities nursing.
Georgina said: "I chose to study at Bangor because of its great reputation for training nurses and there were many recommendations in support of the University.
"There were lots of interesting things during my time at Bangor. I had a variety of work placements that strengthened my nursing skills. I assisted the University to have the new curriculum for approving nurses and I was on the Panel for this. The focus of this was to strengthen inter-professional learning and I believe that the University has done this incredibly well.
"I attended the Positive Choices conference, mainly about learning disabilities, for student nurses, which focused on networking and sharing knowledge, skills and research nationwide. Last year I drove a group of 6 to Edinburgh to ensure we all went, this was a highlight as our friend was presenting there.
"I also ran a workshop for a LDAN (Learning Disabilities, Autism and Neurodevelopmental Disorder Network) which focused on how we could use drama as a medium to include people with learning disabilities to be part of research. A key thing that I focused on was how inclusive we could make primary health care settings more accessible for people with learning disabilities.
"There have been so many highlights. I was very fortunate to be in such an outgoing group. All my peers were amazing and I'm so lucky to have made such fantastic lifelong friendships. Our bonding trips away were great; we went to conferences in London, Hertfordshire and Edinburgh.
"My main highlight was a trip to Cardiff where I won the Royal College of Nursing's Student of the Year award 2012. That was an overwhelming experience. I know from my cohort alone that the competition was high, but to have been the winner from all branches of student nurses in Wales was sublime. I'm very fortunate to have been nominated and to have won is something that will stay with me for the rest of my life.
"I hope to continue working as a nurse both in the community and in patient services. I also wish to support students in developing their confidence in the field of nursing and offering them alternative styles of learning. Eventually, I would like to continue with my education, perhaps a PhD."
Publication date: 12 July 2013