Tours of Bangor University's art and ceramic collections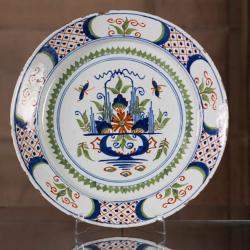 A Bristol Delftware dish of around 1730-1750 from the University's Art Collection.Guided tours of Bangor University's Art and Ceramic Collections will be held February to April 2020. The aim is to raise awareness of these important collections, with highlights including a mural by Edward Povey in Powis Hall, art and ceramics in the University's Council Chamber Corridor and a chance to see and learn about works of arts by other renowned artists such as Kyffin Williams, Brenda Chamberlain, Peter Prendergast and Frederick William Hayes.
The tour in March will be led by Prof Helen Wilcox from the School of Languages, Literatures and Linguistics and will include readings of poetry relevant to the paintings as well as new poetry.
The guided tours are part of a joint venture between Gwynedd Council and Bangor University to increase access to Bangor University's museum collections. This will offer local residents and visitors a chance to enjoy and learn about the vast variety of objects on display.
The guided tours will start from the foyer of the Main Arts Building, College Road, Bangor on Saturdays 15th February, 7th March and 18th April 11.00am-12.30pm.
If you are interested in attending then booking is necessary as there is a maximum of 15 spaces per tour. To book your place, please contact Storiel by phoning 01248 353368 or email storiel@gwynedd.llyw.cymru
Publication date: 11 February 2020