Treborth festival raises £17,000 for Sophie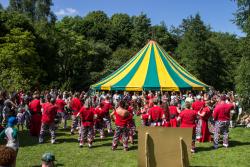 credit/copyright: Stewart Turtill Treborth Botanic Garden hosted a music festival, Draig Beats, to raise money for adaptations to the home of Sophie Williams, a former Bangor University lecturer and conservationist, who is now paralysed after contracting Japanese encephalitis three years ago while doing research in China.
The festival was arranged by Sophie's friends with considerable support from the University. It was a great success, with over 800 people enjoying music, food, workshops and children's activities on a sunny Saturday. The main stage, a circus big top, saw a variety of acts, from the drums of Bloco Sŵn, to the a cappella singing of Threnody, and the rhythms of Banda Bacana. Internationally acclaimed master kora player and drummer Seckou Keita performed for the delighted guests. Headline act was the band that Sophie used to play with, Drymbago which filled the big top with crowds of enthusiastic dancers. On other stages there was folk music from Mouton, singer songwriter Hannah Willwood and Bear Love. In a quieter part of the Garden you could do Tai Chi or experience a gong bath. All the acts performed for free, so that all the ticket sales could go to The Sophie Williams Trust, as well as the profits from the food and workshops, so a total of over £17,000 was raised.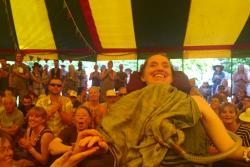 Sophie Williams delighted to be watching Sekou Keita playing at Draig Beats: credit/ copyright Robert Annewandter Sophie herself came to the event and was at the centre of the audience for many of the acts. Afterwards she had a message for everyone: "Thank you all for coming to Draig Beats. It was so much fun! Especially Seckou Keita, he was phenomenal!"
Natalie Chivers, Curator of Treborth Botanic Garden, said "We were delighted to be able to host Draig Beats. Sophie has been very much a part of the Garden since she was a student here and helped to arrange our first music festival in 2009, Botanical Beats. So it was very fitting that the Garden should enable this fantastic event to happen, to bring together people who love Sophie and want to help her get back home to Tregarth."
Publication date: 20 June 2018