Treborth Playing Fields will see more play thanks to generous former students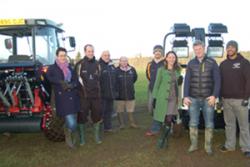 Pro Vice-Chancellor Professor Carol Tully, Mr Emyr Bath (Vice President, Sport and Healthy Living, Students' Union), Mr Glyn Parry (AU Clubs Administrator), Mr Richard Bennett (Director of Sport), Robert Chambers (student fund-raiser), : Emma Marshall (Development & Alumni Relations), Mr Phil Nelson (Surflines), Daniel Crooks (student fund-raiser).Student clubs playing at the Universities Treborth Playing fields will have a better chance of keeping games on when the heavens open, thanks to the arrival of a Vertidrain machine. Paid for entirely by donations from former Bangor University students, the machine allows the grounds-staff to ensure that surface water drains quickly from the playing surfaces into the deep underground drainage system ensuring that pitches stay playable for longer. Through a series of rotating spikes, small drainage holes are created in the pitch surface, creating a natural drainage system.

Student clubs play upwards of 50 fixtures a year ranging from the traditional rugby and football to the more unusual Gaelic Football and American Football. Keeping the pitches in playing condition for Wednesday afternoons is a year round job for the grounds-staff, with clubs not only needing pitches to play on but also to use for their twice weekly evening training sessions. To assist with the training sessions, clubs are also benefitting from two portable floodlights, also donated by the University alumni. Portable floodlighting allows different areas to be used for training, rather than relying on the one existing floodlit pitch, which has now been returned to use for evening fixtures.

Bangor University Director of Sport Richard Bennett said; "the donations of both pieces of equipment have made a significant difference to our ability to keep clubs active in what has been a very damp and snowy winter so far. The floodlights have led to a massive reduction in the overall wear on tear on the pitches and the vertidrain will make a huge difference in the long term."

Bangor University Athletic Union President for Sport and Healthy Living, Emyr Bath said: "for many years we have struggled to complete our fixtures due to the amount of rainfall but now we have the Vertidrain machine we won't have to postpone nearly as many games as the pitches will stay playable for much longer."

Bangor University Head Groundsman Roger Hilton said: "the arrival of the Vertidrain machine means that we can we take full advantage of our drainage system and ensure that as many games as possible go ahead as planned"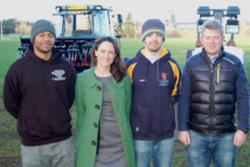 Daniel Crooks and Robert Chambers were two of the students who took part in a telethon fundraising campaign run by the Development and Alumni Office. They came along to see the new equipment with Emma Marshall, Annual Giving Officer.Phil Nelson a Bangor University Sports Science and Executive MBA graduate and Managing Director at Surf-Lines "Like most Bangor Alumni, I am incredibly proud of our University, and it's fantastic to see that so many ex students want to continue their association and (financial) commitment to both the University and the local community.

I have fond memories of playing rugby at Treborth from my student days, and still come regularly to run, walk and watch the odd match. One of the University's great unique assets is the environment in which is resides, from the majestic mountains of Snowdonia to the pristine beaches of Anglesey. Where else can you play and train on pitches that offer views as stunning as the two iconic bridges and swirling waters of the Menai Straits?

Now with the contributions from alumni to help drain and light the pitches, teams will finally be able to play on quality surfaces that match the quality of the vista."
Publication date: 18 February 2013