Tree Sparks goes from strength to strength
An eco-awareness company set-up by a Forestry student following a period of ill-health has been given a seal of approval from an influential business network in the region.
Tree Sparks, a social enterprise designed by Bangor University Forestry student, Jemima Letts, to get young people interested in conservation and environmental awareness, has been awarded a year's free membership by the West Cheshire and North Wales Chamber of Commerce. Tree Sparks has also been invited to take part in the business network's Young Chamber programme, which sees local businesses and entrepreneurs working with schools and colleges in the region in order to bridge the gap between education and business.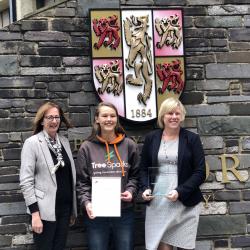 (L-R) - Lowri Owen (B-Enterprise), Jemima Letts and Debbie Bryce (West Cheshire and North Wales Chamber of Commerce)
A bout of recurrent seizures led to Jemima taking a break from her studies but, not allowing the condition to hold her back, she used the time to set up Tree Sparks and in a short space of time, has received numerous accolades and awards for her business.
Representatives of the West Cheshire and North Wales Business of Commerce had seen Jemima present her business at a Big Ideas Wales event earlier this year and wanted to reward her entrepreneurial skills for setting up such a worthwhile business under fairly trying circumstances. Big Ideas Wales is part of the Business Wales service to encourage youth entrepreneurship in Wales. It is funded by both the Welsh Government and the European Regional Development Fund and is aimed at anyone between the ages of 5 and 25 who wants to develop a business idea.
The event's judges were highly impressed with Jemima's business and awarded her both the Social Impact Award and Future Entrepreneurship Award, along with a £1000 grant to further develop her business.
Since its inception, Tree Sparks has received support from Bangor University's B-Enterprising team – a dedicated unit that helps students develop their enterprise skills and business ideas. Reflecting on this latest accolade for Jemima and Tree Sparks, Lowri Owen, Enterprise Manager at Bangor University, said:
'Jemima's passion for developing her business idea has really paid off. She's seized every opportunity offered to her and it's remarkable to see how much her confidence has grown.'
This was echoed by Debbie Bryce, Deputy Chief Executive of the West Cheshire and North Wales Chamber of Commerce, who presented Jemima with the certificate of membership recently:
'I was so incredibly impressed with Tree Sparks and their company ethos. Jemima is a fantastic entrepreneur and her vision of creating environmental awareness amongst students links perfectly with our Young Chamber programme. I am looking forward to working closely with our schools and colleges to further spread awareness of the environmental sector and introduce young people to career paths that they previously may not have considered.'
Now back at the University and due to graduate in 2019, Jemima is looking forward for the year ahead:
'I am really looking forward to getting stuck back into my studies and to begin running the first Tree Sparks pilot programme, working closely with Forestry and Environmental students here at Bangor. I have been really lucky in having the support of B-Enterprising and the School of Natural Sciences over the past year in developing Tree Sparks and I can't wait to see what the new year will bring!'
Publication date: 4 October 2018