Tryfan Jazz Band join French company Circa Tsuica for circus show, Now or Never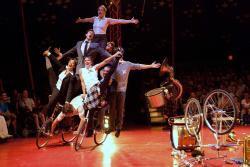 Circa Tsuica's latest show Now or Never.: credit and copyright V Berthe PommeryAcrobat-musicians of French company Circa Tsuica bring their Big Top to Bangor joining forces with local Tryfan Jazz Band for their latest circus show, Now or Never
Presented by Crying Out Loud as part of Circus250, the nationwide celebration of the 250thanniversary of modern circus
On the 10th of September, the eleven acrobat-musicians of celebrated French contemporary circus company Circa Tsuica arrive in Bangor to set up their white and red Big Top on Coleg Menai field, Ffriddoedd Road, then create a traditional circus village around it. Passers-by can watch as the Big Top goes up, the village takes shape and the company prepares for the show, reinventing circus traditions for the 21st century.
When the tent doors open on 13-15 of September, the audience is invited in for Now or Never, an exhilarating fusion of stunning acrobatics and funky brass rhythms, where acrobats, musicians and audiences all play their part.
As the party begins, the performers mingle with the crowd, making and sharing Breton crêpes, before they launch into a feast of music and circus. They fly, fling and swing across the tent on trapezes, tightropes, Cyr wheels, trick bicycles, trampolines and seesaws.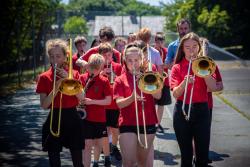 Tryfan Jazz BandAll the while, Circa Tsiuca's acrobat-musicians play their thundering brass rhythms accompanied by young musicians from local brass band, Band Jazz Tryfan.
Rachel Clare, artistic director of producers Crying Out Loud, says:
"We are excited to bring you a new circus experience to celebrate Circus250, a special circus anniversary. Combining the joy of French musical-circus with local Brass bands, each version of Now or Never is unique, determined by the site and the close collaboration with the local brass bands. This will be a memorable event, a chance to experience the best taste of culture from both sides of the channel."
Pontio's Artistic Director Elen ap Robert added:
"It's great to be able to bring this circus spectacle into the Bangor community and to see Tryfan Jazz Band perform along side the company. Join us for a chaotic and fun evening of circus, music, pancakes and wine!"
The tour of Now or Never is supported by Ambition for Excellence using public funding by the National Lottery through Arts Council England.
Circa Tsuica: Now or Never
A Big Top, Friars Field, Coleg Menai, Bangor
13 September, 6.30pm
14 September, 6.30pm
15 September, 6.30pm
£15 / £12 concessions
10% off for groups of 5 or more with promo code: NOW10
Phone: 01248 38 28 28
Publication date: 6 September 2018