TV star returns to lecture in his old classroom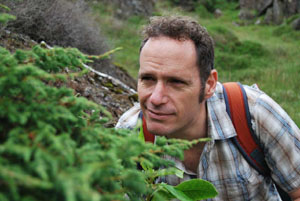 Dr Trevor Dines is the enthusiastic botanist who is getting the nation excited about wild plants in the popular new Channel 4 series 'Wild Things'. Today he comes back to the place where he studied to speak to a new generation of students.
Trevor graduated in plant science from Bangor University in 1987 and went on to do a PhD here. Today he is lecturing 2nd year students studying Conservation Practice giving them a case study of the challenges of achieving conservation success in the real world. The title of his talk is 'Muddy and downtrodden; the secret to success for a water-buttercup'.
When he heard he would be lecturing in room F27 in the Thoday building he got 'all nostalgic' remembering his days in the lecture room as an undergraduate.
The 1st series of Wild Things has just finished; however, the episodes are still available on 4 OD.
Publication date: 18 March 2013