UK viewers to get insight to life around the Menai Strait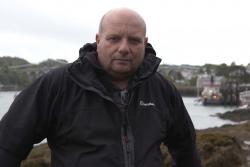 Dr Mike RobertsPrime-time TV viewers across the UK are to get an opportunity to learn about the life around the Menai Strait as ITV Wales' popular series The Strait is to be broadcast across the national channel re-titled as 'The Island Strait' and shown at 8.00 on ITV for four weeks from September 14.
The series looks at the lives of people who live and work on the Menai Strait- the magical stretch of sea that separates the Isle of Anglesey from mainland Wales. Among the individuals profiled in the series is Dr Mike Roberts, of Bangor University. Through the eyes of the cast of men and women who work in and around this dramatic and unique stretch of water, viewers get an opportunity to understand what an important environmental asset the Menai Strait really is.
An Anglesey man, Mike is a geological oceanographer and research fellow at the internationally renowned School of Ocean Sciences at Bangor University, he is a marine geologist with a passion for this distinctive coastal environment.
Mike's interest is in the Strait and what lies beneath- literally, as he researched how and when the Strait was formed. His work has shown that there ceased to be any land link between Anglesey and the mainland around 5,000 years ago. An understanding of what lies beneath the sea is crucial in his current role as R&D Manager for the SEACAMS project at the Centre for Applied Marine Sciences, which supports the development of the marine renewable energy sector in Wales. Mike is currently involved in mapping shipwrecks around our coastline, as they can reveal much about how marine processes may respond when marine renewable energy installations are placed on the seabed.
He said this about taking part in the filming of the series:
"Being from Anglesey, I'm really fortunate to have a job that allows me to work in an environment I've known well all my life but I'm luckier still that this work provides me with an opportunity to view the Menai Strait from a totally different perspective. I also feel privileged to be able to share this knowledge with local communities and individuals who live and work on the Strait, or just visit occasionally. I'm pleased that the programme is being shown across the UK, so that everyone can appreciate how incredibly unique this part of our coastline actually is."
The other people appearing in the series are Bangor University Marine biologu graduate Frankie Hobro, who runs the Anglesey Sea Zoo; landscape photographer, Glyn Davies; John Jones, a mussel boatman, working from Porth Penrhyn, Bangor; Stan Zalot, who runs pleasure boat trips fom Beaumaris and Emrys Jones, who runs a pleasure boat trip from Caernarfon at the opposite end of the Strait, and watersports instructors Jamie Johnson & Ali Yates, who work at the Plas Menai National Outdoor Centre.
Publication date: 7 September 2018