University supports Fairtrade Fortnight 2015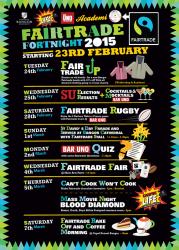 Bangor University are inviting staff, students and the local community to celebrate Fairtrade Fortnight 2015 and choose products that change lives.
This year the University and the Bangor Community Fairtrade Group have joined forces to put a series of events on during the fortnight to remind everyone of the dramatic difference Fairtrade makes around the world and the positive impact it has.
Many events have been planned such as Fairtrade Rugby, Fairtrade Fair a Bake Off competition, a Quiz and Movie night and there will be some Fairtrade products available at the Bangor St David's day Parade and service at the Cathedral on the 1st of March.
Commenting on behalf of the Group, Dr Einir Young, Head of Sustainable Development said:
"Bangor University is committed to Fairtrade, we have Fairtrade status and a Fairtrade Policy which commits to making Fairtrade goods available for purchase in all campus shops and food outlets and to expand the availability of Fairtrade products whenever possible. Being a Fairtrade University and promoting Fairtrade is important to our commitment to become the Sustainable University.
Buying Fairtrade products is one of the least difficult choices we as individuals can make. It sends an important message to business that we won't put up with unfairness; that we don't want people or the environment to be treated badly just so that we can buy cheap goods. Join with Bangor University to make Fairtrade a choice whenever possible for the benefit of developing countries across the globe."
EVENTS
Tuesday 24th February
Fairtrade Up
All day, Ffridd Shop & Academi
Donate an old hoody - for a new Bangor Fairtrade hoody with 10% off! With all donated clothing to going to a local charity.
Wednesday 26th February
SU Results and Cocktails & Mocktails
Bar Uno
Saturday 28th February
Fairtrade Rugby
Enjoy the 6 Nations Wales v France game with Fairtrade treats
Bar Uno, 6pm
Sunday 1st March
Bangor St David's Day Parade and Service
Parade starts at 11.30 James Street Car park and then on to Bangor Cathedral
11.30-2.30
Monday 2nd March
Fairtrade Quiz
Bar Uno, 7.30
Wednesday 4th March
Fairtrade Fair
Main Arts Foyer, 1-4pm
Thursday 5th March
Can't Cook Won't Cook – Make Fairtrade Brownies
Reichel, 7pm
Thursday 5th March
Fairtrade Mass Movie Night – Blood Diamond
Braint, Garth, Bryn Eithin Postgrad common room, 8pm
Saturday 7th March
Fairtrade Bake Off and Coffee Morning
Capel Penuel 10am
Publication date: 23 February 2015