Using the Welsh language in sport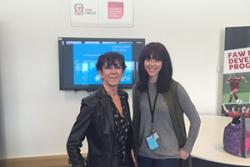 Meri Huws and Dr Eleri Sian JonesA Bangor University academic was invited to present at the Welsh language Commissioner's launch event for a new pack 'Welsh: give it a go!' which is a guide for using the Welsh language in sport.
The pack is a practical resource for sports clubs and associations to develop activities in Welsh or bilingually. It has been developed in partnership with Sport Wales and based on discussions with various sports associations.
The pack includes statistics, facts, videos, examples of good practice and useful resources such as posters and flashcards to introduce useful Welsh vocabulary for coaches.
At the launch, Dr Eleri Sian Jones, lecturer in Sports Psychology for the Coleg Cymraeg Cenedlaethol in the School of Sports, Health and Exercise Sciences gave a presentation about her project, and explained:
"The aim of this project is to develop online Welsh medium resources for coaches on the use of sports psychology, which is a vital part of sports coaching. We also want to recruit coaches to the project to mentor them through these workshops. This will provide an opportunity to monitor and evaluate the programme and to support the development of the coaches.
"The main focus of these workshops is to provide for Welsh coaches so that they have the resources and knowledge through the medium of Welsh. It is hoped that by facilitating this development, there will be more Welsh children and adults participating in sports activities and exercise through the medium of Welsh"
"Good quality training is crucial to participation and performance and this should be facilitated equally in English and Welsh languages. Additionally, it is hoped that this resource development could help national governing bodies (the Welsh Rugby Union, Football Association of Wales, Welsh netball, etc) in developing more Welsh language training courses and qualifications."
Launching the pack in the National Football Development Centre of Wales in Newport, the Welsh Language Commissioner said, Meri Huws:
"Sport is prominent in the lives of many people in Wales – whether they participate in sport themselves, send their children to sports clubs, volunteer or support. Therefore it is important that sports grounds and training sessions reflect life in Wales, where the Welsh language is seen, heard and used as a natural part of everyday life.
"I wanted to produce a resource that would be useful and appropriate to the sector. What we have here is information that has been presented, not in my words, but in the words of coaches and representatives of sport associations – at national, regional and community levels. "
Click here to read a copy of the pack and click on the images to watch the videos.
Publication date: 27 May 2016