Venom Day goes from strength to strength
Bangor University's Herpetological Society recently held their fourth annual Venom Day. Hosted at the School of Biological Sciences, several experts gave talks about a variety of subjects in the field and delegates had the opportunity to see a live display of venomous reptiles, which included a Cobra, Gila Monster and a variety of vipers. The event is part sponsored by the British Herpetological Society and the International Herpetological Society.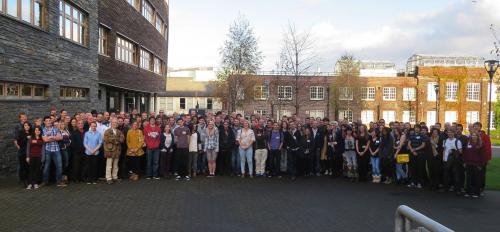 Delegates and participants at this year's Venom Day.
This year's speakers included Dr Ulrich Kuch from Goethe University, Frankfurt; Professor Anna Nekaris, who specialises in Slow Loris venom and David Warrell, Emeritus Professor of tropical Medicine, University of Oxford who is one of the world's leading medical specialists treating snake bite victims.
A great supporter of the Venom Day, and one of its regular keynote speakers, Professor Warrell, said: "The Bangor Venom day goes from strength to strength. The audience is a diverse mixture of scientists, older and younger, with conservationists, herpetologists and amateur reptile enthusiasts. The mood is one of excitement, healthy iconoclasm and a freedom to express novel ideas about all aspects of the evolution, biochemistry, therapeutic relevance and medical aspects of venoms and venomous animals.
"The standard of presentation is superlative. Great visuals, great performers showing real conviction and, most important, great science. This year's meeting brought the usual flood of new young talent. I found it frankly inspiring and rejuvenating and would like to transport the whole cast, lock stock and barrel, to the World Congress on Toxinology that I am hosting in Oxford next September. Congratulations to Bangor University for engendering such a unique occasion and, one hopes, for sustaining it into the future."
Also presenting was Mark O'Shea, internationally renowned TV presenter and one of the top reptile experts in the world. His presentation entitled "Secretive Serpents", discussed the distribution and diversity of the Elapid Genus Toxicocalamus in New Guinea.
Mr O'Shea said: "I believe Venom Day at Bangor University it one of the most important dates in the UK herpetological calendar, even for those herpetologists, zoologists, and toxinologists who might be considered rather 'long in the tooth' themselves."
"Whilst we all know that many reptiles are venomous, and that most amphibians are poisonous, Venom Day expands our knowledge to encompass numerous other taxa and showcases the sheer diversity of venomous and poisonous creatures in the Animal Kingdom.
From annelids to arthropods, from stonefish to snakes, and from the platypus to primates, there is something for everyone. Definitely a case of "What's your poison?"
The event was conceived by Simon Maddock in 2010 whilst he was a Zoology student at Bangor, currently in his final year of his PhD in London, he continues to organise the event with the University's Herpetological Society.
Simon recalls: "This event was set up due to some of the World's leading experts on venom evolution working at Bangor University and having close ties with the Liverpool School of Tropical Medicine who specialise in snake bite treatment. It was noted that in the UK there was a need to bring people working in different areas of the field of venom together in a friendly, laid back but scientific environment. Venom Day has grown from strength to strength and this year attracted more than 160 delegates."
Publication date: 5 December 2014