Victorian Christmas in Beaumaris
With Christmas fast approaching, the Bangor English Drama Society took part in an annual local event which is sure to put anyone in the Christmas spirit.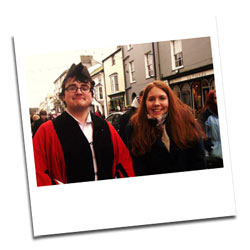 On the 24th November, BEDS became a part of the Beaumaris Victorian Christmas by donning Victorian dress and taking to the streets to perform a number of Dickensian scenes, and interact with the public in character.
Local businesses and groups in Beaumaris take part every year by dressing their shop windows with traditional Victorian fair, selling crafts and old fashioned sweets on the many stalls which line the main highstreet and even setting up snow machines in their upstairs windows to shower Castle Street with a Christmas atmosphere. Even the famous Beaumaris Ice-cream Parlour got into the Christmas spirit by creating special Christmas themed ice-cream flavours and serving hot mulled wine. Despite the biting cold weather, the ice-cream proved a popular choice for visitors.
Becki Moss, who is in her third year and studies English Literature, said,
"It's been a great day and it's really helped me to feel Christmassy! I've been a BEDS member for years and this is the first year when I haven't acted in the performances, so I've had an opportunity to really enjoy the day!"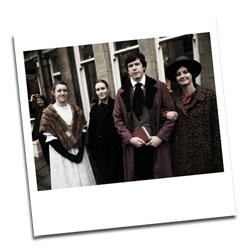 The day began with carolling and the arrival of Father Christmas, followed by a parade around the town which included a surprise appearance from "Queen Victoria" and "Prince Albert", two masquerading BEDS members who looked positively regal on their walk around Beaumaris, accompanied by a selection of Dickens' characters such as Fagin, Scrooge and even Dickens himself. Leading the rabble was Sam Clark, an English Literature Student from East Sussex who was dressed as the Town Crier and performed the role with gusto. Becki added,
"BEDS is a great society to be a part of and I especially enjoy the Victorian day and also the Medieval day we do earlier in the year, it's a great opportunity to get out into the community and perform for people other than students. I think the public really appreciate the time and effort it takes to put on so many small performances throughout the day, the hardest thing for us is to stay in character when people ask you questions!"
The performances were a hit with visitors, especially the adaptation of Dickens' "A Christmas Carol" that BEDS performed in the church yard. The public lapped up Dan Short's impressive performance of the role of Scrooge, a character he managed to portray for the entire day, issuing curses of "Humbug!" at tourists.
The day ended how it began, with carolling lead by the Mayor of Beaumaris himself.
This story was written by English Language and Creative Studies student, Hannah Mundy
Publication date: 9 December 2012