Volunteering is a way of life for Elan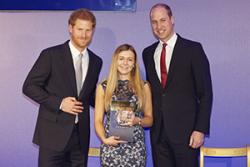 Elan Gilford with TRH Prince Harry and the Duke of Cambridge.Eighteen year old Elan Môn Gilford, from Llanfairpwll, a first year Sports, Health & Exercise Science student is one of only 20 people worldwide to have received a Diana Legacy Award for her volunteering.
The Diana Award is given out in Diana, Princess of Wales' name to young role models who are selflessly transforming the lives of others. The Award recognises young people who are going above and beyond their daily lives to create and sustain a positive change.
A keen sportswoman, Elan has been rewarded for her passion and enthusiasm for sharing her sports with others. Elan spends over 2000 hours a year volunteering. She shares her coaching, mentoring, organising skills with a range of children's sports clubs and teams, including netball, athletics, hockey and rugby.
She has a range of achievements in her own right, including 1st Dan Black Belts in Shukokai Karate and Kickboxing and a Gold Medal in karate at the UKASKO National Competition in 2012. She represents North West Wales in Netball and has attained a number of sports leadership and coaching qualifications.
Now a student at Bangor University, Elan intends to keep up with her sport volunteering and is delighted to have made it to the Netball First team at University. Added to these activities Elan also intends to continue as a part-time karate instructor with Pritchard's Martial Arts in Caernarfon, as it funds running her car!
Elan is in for a busy year as, added to her studies, volunteering and part-time work, her Award brings with it an Ambassadorial role. She will be representing the Diana Award at a number of events through the year, including co-hosting the Diana Inspire Awards in the Awards ceremony in Cardiff in November.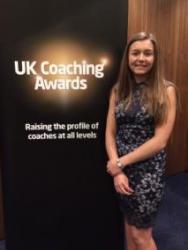 Elan at the UK Coaching AwardsAlready an Inspire Award recipient, Elan was nominated for the Diana award by her former PE teacher at Ysgol Dyffryn Ogwen in nearby Bethesda.
She said this about winning the Legacy Award:
"I was in shock! I couldn't believe that I had been chosen as one of the 20 global recipients! I met the other recipients from across the globe and each and every one of them had a different story to tell. I got to meet Princes William and Harry who, before the ceremony, spoke of how much this award means to them and to the memory of their mother Diana, Princess of Wales and how her countless acts of compassion and bravery has inspired others to volunteer across the globe."

Elan began volunteering with the Urdd (a Welsh medium youth organisation) and was a Millennium Sport Leader with the Urdd and a Sport Wales' Platinum 5x60 Young Ambassador.
She says: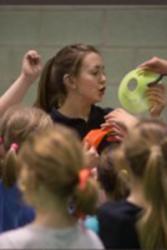 Elan netball coaching"Volunteering as a whole is a win, win situation it gets you away from the daily life routines and gives you something to look forward to, a pleasure that costs you nothing only time, which I'm happy to share with others."
"I volunteer because it continuously teaches me something new about other people, about co-operation, about compassion and about myself. Young people have real enthusiasm to make the world a healthier and better place, whether by being inspirational, enterprising or through generosity."
She has learnt a great deal from her experiences and says:
"Volunteering is an ongoing learning process, you require patience and understanding of others and you must be able to offer encouragement and motivation and be ready for new challenges.
I have faced many challenges! As I was diagnosed deaf at the age of three, volunteering was a huge step for me to take, especially as I rely on lip-reading and what I can hear from my hearing aids. Lip-reading around 20-30 children all talking at once in a leisure centre has been my toughest challenge yet, but I have survived and the children are so understanding. I also tell the children that I am deaf and that I wear two hearing aids and if they have a question they should put their hand up. With this out the way at the beginning of every session, everything else falls into place.
"My self-confidence benefitted initially and then the competitive side in me came out, where I personally managed to compete at a high level by participating in mainstream sports. Through volunteering I have been able to demonstrate to others that disability doesn't have to affect what you can do, there's always a way around difficulties if you are prepared to work hard.
Apart from the appeal of popping home with ease for a Sunday dinner, Elan chose to study at Bangor University as the facilities and courses she need were on her doorstep.
She says: "My Tutors at the School of Sport, Health & Exercise Sciences are superb and my Personal Tutor, Dr Eleri Jones is one of a kind, she has time for everyone and everything, she's just lovely. I have only been here a few weeks and I'm thoroughly enjoying it, I'm glad I chose Bangor."
Publication date: 13 October 2017