Wales Office Minister Baroness Randerson sees innovative environmental research during Bangor visit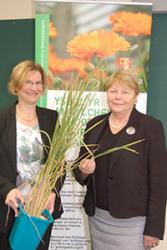 Dr Katherine Steele shows Baroness Randerson an example of a new variety of riceWales Office Minister Baroness Randerson, visited Bangor University (Thursday 27 November) to find out about the exciting and innovative environmental research taking place.
Baroness Randerson visited both Bangor University's School of Environment, Natural Resources & Geography and the Centre for Ecology & Hydrology on the University's campus.
Baroness Randerson was particularly keen to learn about a vital research project at the School, which is addressing food security in India and Nepal. Food Security is one of the major challenges facing the world.
Scientists on the project are working with partners in Nepal, India and LGC Genomics (LGC is an international life sciences measurement and testing company, building leading positions in sustainably growing markets) to develop new strains of rice that are more able to withstand two devastating rice diseases which have the capacity to lead to the loss of 85-100% of the rice harvest in many rice growing countries and thereby, food security for millions.
This new Agri-Tech Catalyst Early Stage Feasibility Award funded project, which is subject to contract, is one of three projects in Wales sharing £5 million of investment from Innovate UK to address major worldwide agricultural challenges.
During the visit Baroness Randerson also had a meeting with University Vice- Chancellor Professor John G Hughes to discuss the University's ground-breaking work in areas of sustainability and environmental science.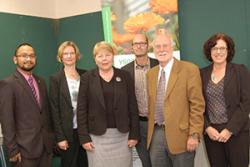 At the School, Baroness Randerson met (l-r) research student Noorman Marzukhi, Katherine Steele, David Chadwick, John Witcombe and Morag McDonald.Professor John G Hughes said:
"Research at Bangor University has impact around the globe, and we're particularly proud of our work which makes a real contribution towards improving lives, whether here in Wales or internationally. I was delighted to have the opportunity of discussing this and other important research work with Wales."
Baroness Randerson said:
"I've really valued the opportunity to discuss with academics and researchers at Bangor University their research which is helping to address food security. This work is of international significance and, in particular, of importance to the future of some of the poorest places on our planet.
Professor Morag McDonald, Head of the School of Environment, Natural Resources & Geography said:
"Our research follows on from a long tradition of work in Bangor that has benefitted agriculture throughout the tropics and has had a genuine, positive impact upon society. Novel strategies of breeding new varieties of rice, maize and millet have resulted in improved varieties being grown on more than 3M hectares of agricultural land, estimated to provide benefits of around £36M annually to the poorest farming households in marginal areas of South Asia."
Baroness Randerson also visited the Centre for Ecology & Hydrology, part of the Natural Environment Research Council, who also work alongside the University's own environmental scientists in the Environment Centre Wales building.
The award-winning green building is designed to inspire and reflect the innovative environmental research by over 100 CEH and Bangor University staff it houses. Baroness Randerson toured the analytical facilities and met staff and students to hear about food security projects. These include a new Agricultural Sustainable Intensification Platform, part of a £5M Defra programme to develop innovative farming practices which protect natural resources, and a £9M Welsh Glastir agri-environment evaluation scheme.
Baroness Randerson added:
"The Environment Centre Wales building is an example of environmental excellence and sustainability, both in terms of its design and the way in which it is used. The work that is carried out here by the Centre for Ecology & Hydrology (CEH) is of huge significance to Wales and beyond. I've found it extremely interesting to learn about the world-class research that CEH does into the long-term issues and challenges faced by our environment."
Professor Bridget Emmett (Head of CEH Bangor) said: "NERC Research Centres have an excellent track record in delivering solutions to complex environmental challenges. The problem of delivering greater food security whilst protecting our natural resources is one we have to meet if sustainable development of Wales is to be achieved."
Publication date: 27 November 2014