Wales' Premiere of Barely Methodical Troupe's tour-de-force of cutting edge physical heroics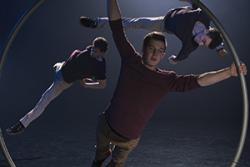 Following sell out performances at the 2014 Edinburgh Fringe Festival, 2015 London International Mime Festival & Udderbelly Festival at the Southbank Centre; the all-male Barely Methodical Troupe bring their award-winning show Bromance to Pontio, Bangor for their first performance in Wales on 1 and 2 February 2017.
The trio, Louis Gift, Beren D'Amico and Charlie Wheeller, are the rising stars of the British circuit, and part of a new wave of modern British circus that combines physical stunts with contemporary dance styles, themes and theatricality.
The jaw-dropping magnificent (The Stage) show was the hot ticket of the Edinburgh Fringe 2014 (winner, Total Theatre and Jackson's Lane Award for Best Circus), they have wowed audiences across the UK receiving standing ovations and fantastic feedback on social media; last year they toured the world including performances in Australia and Brazil.
Their highly entertaining debut, Bromance, is a show about trust, intimacy and male friendships explored through eye-watering feats of strength, astonishing circus skills (Time Out), hand-to-hand balancing, acrobatics and routines on a Cyr wheel-a large spinning, steel wheel.
As Beren D'Amico says, 'We had the opportunity to create a show. So, we thought, "What do we have together?" We don't want to do a show about politics or come across as pretentious. So, we made a show about male friendship, because that's what we experience every day.'
Barely Methodical Troupe met at the National Centre for Circus Arts when they found their diverse mix of skills offered them a unique chemistry: Louis Gift started in parkour, Beren D'Amico in martial arts tricking and Charlie Wheeller was a breakdancer. On graduation, they won the inaugural Circus Maximus competition and the Deutsche Bank Award with which enabled them to create Bromance and have gone on to be awarded a string of awards including Best Circus Weekly Award at Adelaide Fringe 2015.
Pontio's Artistic Director, Elen ap Robert said: 'Bromance might be an unexpected title for a circus show but then there are young dynamic circus performers on the scene now who have new and contemporary stories to tell - and Bromance is one of them - and fortunately for us, Bangor and Wales – this will be Wales' Premier! '
Publication date: 23 January 2017